Series Preview: Giants v. Cubs, April 11 – April 14, 2013
The Cubs welcome the Champs to Wrigley Field, as they host the San Francisco Giants, a team that never looks as dominant on paper as it performs on the field.
By way of reminder, the Series Preview hooks you up with what you need to know about every series this year – streaks, broadcast information, pitchers, expected lineups, etc. That way, if you want to check only one place to get a sense about an upcoming series, or to plan ahead, you've got it. There's also some fun stuff, because fun stuff is fun.
We're Going Streaking
The Cubs are riding a season-high one-game winning streak with some help from the weather. Splitting this series, all things considered, would have to be called a success.
The Giants just swept the Rockies, and are 6-3 on the young season. And they're coming off a World Championship. Their second in three years. How nice for them.
Game Times and Broadcasts
Thursday, April 11 at 1:20 CT on CSN.
Friday, April 12 at 1:20 CT on CSN.
Saturday, April 13 at 12:05 CT on FOX.
Sunday, April 14 at 1:20 CT on WGN.
Game Tickets
You can pick up your Chicago Cubs tickets for the series via that there link, or at Cubs.com.
Expected Starters and Lineups
These lineups are likely to be pretty close to what actually gets fielded, but you'll want to check each day's Pre-Gamin' post for the actual lineup.
Cubs
Starters: Scott Feldman (0-1, 7.71), Carlos Villanueva (0-0, 1.35), Jeff Samardzija (1-1, 2.63), Edwin Jackson (0-2, 5.73)
Lineup:
David DeJesus, CF
Starlin Castro, SS
Anthony Rizzo, 1B
Alfonso Soriano, LF
Nate Schierholtz, RF
Welington Castillo/Dioner Navarro, C
Luis Valbuena, 3B
Brent Lillibridge/Alberto Gonzalez, 2B
Pitcher
Giants
Starters: Ryan Vogelsong (0-1, 8.44), Matt Cain (0-1, 8.38), Madison Bumgarner (2-0, 1.32), Tim Lincecum (1-0, 4.91)
Lineup:
Angel Pagan, CF
Marco Scutaro, 2B
Pablo Sandoval, 3B
Buster Posey, C
Hunter Pence, RF
Brandon Belt, 1B
Gregor Blanco, LF
Brandon Crawford, SS
Pitcher
Hot or Not and Whom to Watch
It's still too early for meaningful "streaks," but it's worth pointing out that, through 23 plate appearances, Welington Castillo is the Cubs' best hitter: .381/.409/.619. Nate Schierholtz isn't too far behind, at .304/.385/.565.
Carlos Villanueva will try to put together another solid start, and Scott Feldman will try to rebound from his almost-acceptable-but-just-not-quite-good first start.
Anthony Rizzo's batting average – .185 – won't get your motor going, but his IsoD and IsoP are so ridiculous that he still has a .313 OBP and .444 SLG. That suggests he's fine.
Brent Lillibridge remains hitless on the year.
Sentences you never thought you'd say after 2006 for $400, Alex: thank goodness the Cubs avoid Barry Zito in this series. The Giants have won 16 straight games(!) that Zito has started, including the playoffs. He's looked dominant this year, and, as a soft-tossing lefty, he would have dominated the Cubs anyway. I think the Cubs might have scored -5 runs against Zito.
Matt Cain, on the other hand, currently sports a 44 ERA+ thanks to nine run, 3.2 inning effort against the Cardinals last time out. He'll get a chance to lick his wounds on Friday.
Series She-View
The Series She-View is one beautiful woman representing the Cubs taking on another (usually) beautiful woman representing the opponent. The Cubs' representative will change as the team's needs change – in other words, if the Cubs are winning, the rep will stay the same. But if the Cubs' performance calls for a change, someone new will step in. The opponent's representative will change from series to series, at my whim. But at least she'll probably be wearing the opponent's colors or have some connection to the team or something like that. It is immature, and the connection to baseball is tenuous at best. These things, I know.
This year, the Series She-View will live over at the Message Board. Here's your She-View for the Giants series.
Caption the Enemy
A new feature for the Series Preview this year – since folks on the Internet can't get enough of cracking wise about pictures, I thought it might be a fun addition to the Series Preview. I'll drop in a picture (hopefully one ripe for captioning), and you'll drop in your clever captions into the comments. Then, if there are good ones, we can meme-ify them for use down the road.
For the Giants, how about a particularly glorious baseball card from their manager's playing days …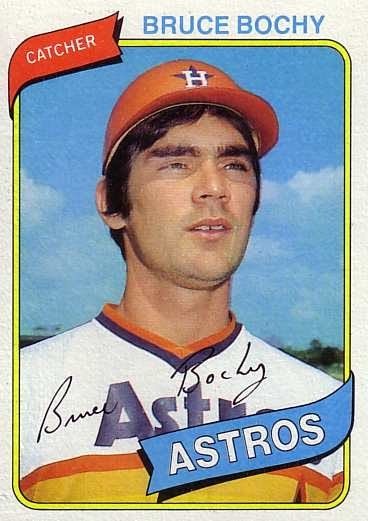 ---
Latest from Bleacher Nation: