A Reason to See Each Cubs/Mets Game This Weekend: Harvey, Slap Bracelet, LegCastro
And now for your regularly-scheduled "lighter" afternoon, off-day fare …
The Cubs welcome the New York Mets to Wrigley Field starting tomorrow afternoon, and, incidentally, each game this weekend offers you a unique reason to attend. The Cubs' promotional staff gets credit for two of those games, and the Mets' farm system gets credit for the other.
Friday – 1:20pm CT
Tomorrow's game will be the Cubs' first opportunity to see one of the fastest-rising young players in baseball, pitcher Matt Harvey. I'd reckon you've heard the national media fawning over him for weeks now, which, yes, is partly because he plays in New York. But it's mostly because he's been stupidly, ridiculously, over-the-moon good. The 24-year-old righty was drafted by the Mets in the first round (7th overall) back in 2010 (so I guess that means we can dream on Gray/Appel for 2016?), and has exploded this year. In 56.1 innings of work over eight starts he's got a 1.44 ERA and an 0.728 WHIP. No one can hit him (4.3 hits per 9) and he doesn't really walk many (2.2 per 9). He strikes out a ton (9.9 per 9), and has already accumulated 1.8 WAR. Through eight starts. His FIP and xFIP are both under 3.00, which is insane. He's as good as folks say he is, and you get to see him mowing down getting blasted by the Cubs on Friday.
Saturday – 12:05pm CT
Saturday's game, which will feature players playing baseball, is at least as notable for the nostalgic blast from the past: slap bracelets! The Cubs are giving out watch-like slap bracelets to the first 10,000 fans at the game, and they are as awesome as you remember them. (Except these versions are rubber, so they don't have that pesky problem of the metal interior protruding and slicing your friends in study hall "on accident.")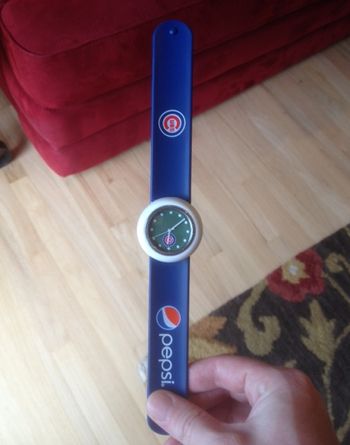 To apply the slap bracelet, simply slap it. End of instructions.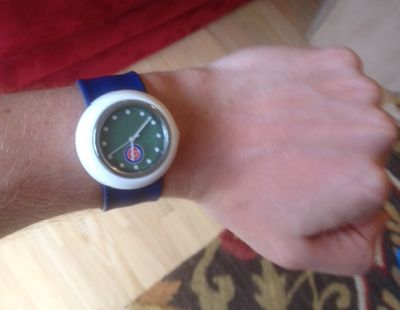 I now have two watches. This one, and the one The Wife gave me for our wedding. Which to wear, which to wear …
Sunday – 1:20pm CT
Sunday's game nets the first 10,000 children, 13 and younger (so grab the neighbor's kid if you have to), a Starlin Castro "mini figurine." It appears that it isn't technically a "Lego" figurine, but if I called it a "Lego" figurine, you'd have a better idea of what I was talking about. So, yeah. This is not a "Lego" figurine, but …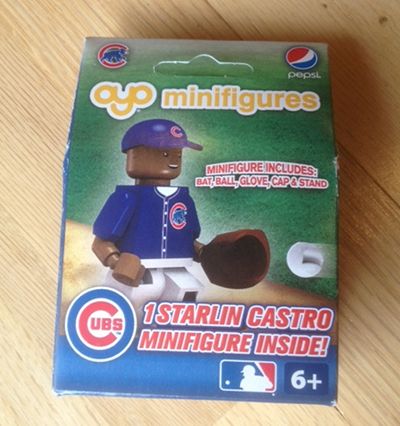 Because it is a constructable and opposable figurine, you can do many things with your miniature Starlin Castro. You can have him step up to the plate, ready to blast a homer (one-handed!):
Or you can get him ready to field a grounder. And then miss it:
Or you can be a twisted person and simply stare at his disembodied pieces: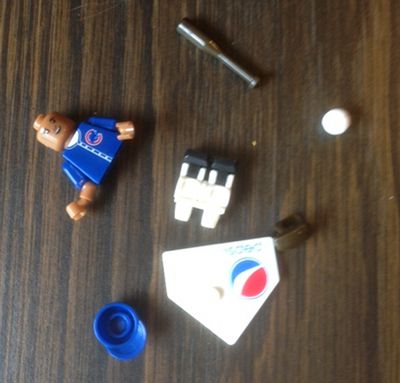 So many options. So many activities. So much fun.
There you go. Boom. I've made your weekend plans for you.
---
Latest from Bleacher Nation: