BOOM: City Council Approves the Wrigley Field Renovation and Development Plan (But … )
First, the very good news: the final public hurdle in approving the renovation plan for Wrigley Field and the development of the surrounding area – a $500 million, privately-funded project – was cleared today. City Council just approved the plan – following a colorful set of remarks from Alderman Tom Tunney, which I imagine will be covered at some point – and the Cubs now have the green light to proceed with the renovations as soon as the season ends. Getting this approval has been hard fought, and offers at least a little bit of relief.
That said, it wouldn't be a Wrigley renovation update without some kind of "howeva." In this instance, the howeva is that there are still issues to work through, in terms of implementing what was just approved.
As Cubs VP of Communication and Community Affairs Julian Green told Crain's Danny Ecker, "As outlined [yesterday at the Zoning Committee meeting], we are deferring three development issues in order to discuss alternative solutions. We also need to resolve all outstanding issues with the rooftops and amend the night game ordinance so as not to conflict with Major League Baseball's national television contract. We look forward to resolving these and other open issues from the announced April framework in order to finally make plans to break ground on our renovation of Wrigley Field and construction of the plaza and hotel."
In other words, it sounds like the Cubs will be reluctant to actually implement the initial stages of the now-approved plan until they know the rooftops aren't going to sue, and know how the sign in right field – the one that might be overhanging Sheffield Avenue – is going to be implemented. They also remain unhappy about some last minute changes in the night game ordinance. Understandably, the Cubs will not want to start writing any checks until they know precisely what is going to happen, particularly with the rooftops. There will undoubtedly be more written about this very soon.
Back to today's approval …
Given how the process has gone, and the fact that, strictly speaking, there are still things to do, it's hard to completely celebrate today. I do think the renovation and development are huge for the future of the organization, but until the final brick is laid, it's hard to really let it all go. With so many interconnected and intensely complicated issues constantly swirling around the renovation (some of which still require resolution), we'll have to settle for a measured, "Today is a good day."
To that end, let us "celebrate" this big moment in the manner to which you've become accustomed: a GIF party. Given his unique disaffection for government bureaucracy (and the fact that the man who portrays him, Nick Offerman, is a big Cubs fan), I can think of no one better than Ron Swanson to walk us through our feelings in the Wrigley renovation approval process.
For most of the last six months, although we've been hopeful and excited at times, mostly we've been frustrated. Something like this: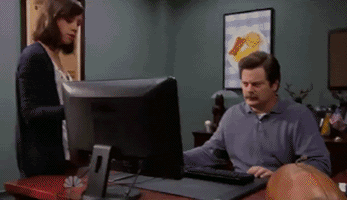 When the Cubs came to an "agreement" with the Mayor and Alderman Tunney on a "framework" for the renovation, we were tentatively happy: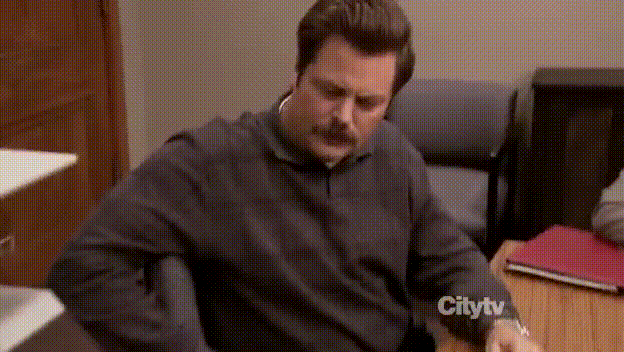 And when the Cubs finally got their night game ordinance, and it looked like the remaining steps would go relatively smoothly, we started to get happier:
But then the fighting continued – with Tunney, with the rooftops, with the neighborhood – and, even if the Cubs wouldn't say it, this is how we were feeling:
Today, City Council approved the Cubs' plan, which at least merits a short, celebratory gesture:
Although today is a good day, and the final public hurdle has been cleared, I'm not sure we'll ever quite get to this:
But, yeah. Today is a good day. I'm going to do my best to dance.
---
Latest from Bleacher Nation: