A Make-A-Wish Thank You – And The Two Wishes We Adopted
Last week, I was invited to come to the Make-A-Wish Illinois office for a short visit and thank you for what we (read: you) accomplished last month with the Blogathon fundraiser. Together, we raised more than $12,000 to help Make-A-Wish in its mission to grant the wishes of children who really need a special experience.
I cannot overemphasize how gracious and appreciative the staff at Make-A-Wish was for your efforts. Truly, they think it's amazing how eagerly you gave and supported this cause. We have a special community here, and it shows.
Although Make-A-Wish is not able to guarantee that it can pair our specific donations to a specific future wish (if they did that for every donation, their operations would grind to a halt), they did present us with two plaques of Chicago Cubs fan wishes that our donations "adopted." In other words, if you want to think about it this way, we retroactively paid for two recent Chicago Cubs fan wishes, including one that's happening this Summer. Without the support from people like you, these experiences don't happen.
Here are the plaques for A.J., 12, and Arman, 7: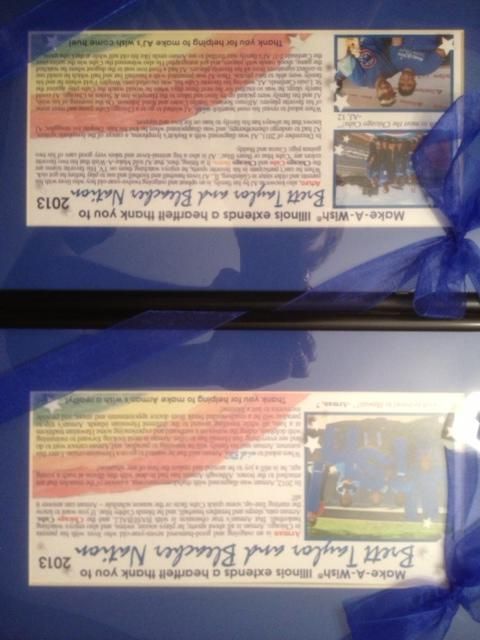 A.J., who was diagnosed with a Burkitt's lymphoma in December 2011, wished to meet some of his favorite Cubs players and spend a day at the ballpark (and the Cubs beat the Cardinals, to boot!). Arman, who was diagnosed with a cancer of the muscles in 2012, is a passionate Cubs fan (who can tell you just about anything about the Cubs). He wished for he and his family to get to take a Hawaiian cruise, which they'll be doing late in the Summer.
Thank you again for your tremendous support throughout this process, and thank you to Make-A-Wish Illinois for all that they do – and for being so kind to me on my visit.
---
Latest from Bleacher Nation: