Cubs Fans Unite to Blast Clark the Cub – And Then He Went to Visit Kids
If you – or the Cubs – expected anything different, then you don't understand the current state of Cubs fandom as it exists today, especially on self-selective platforms like Twitter.
I am referring, of course, to the predictable backlash the Cubs faced yesterday (most visible on Twitter, to people like me, anyway) upon the announcement of Clark the Cub, the team's first official mascot in modern history. In the way that Jar Jar Binks was George Lucas's obvious ploy to make Episode One accessible to small children, the Cubs were simply trying to come up with something to connect the team to little kids (and their parents). If you judged solely by the tweets yesterday, you'd think folks would rather have Jar Jar donning the backwards Cubs cap.
For the most part, that's just the way Cubs fans are right now, for better and worse. Hostile and deeply cynical, but also very, very funny. Poochie jokes, pantsless jokes, #RejectedCubsMascot jokes, and on and on. I laughed. I even participated a little (with love and respect, of course). These kinds of rallying moments, ironically, are what remind Cubs fans that we do have a bond, despite the deep crappiness of the team in recent memory. Cubs fans just want to commune – and if it's shredding Clark together, then that's what they're going to do. It was preordained, no matter what mascot the Cubs revealed. (Unless it was a .280/.360/.500 hitting third baseman on a reasonable deal. Or a ninja.)
Soon, the Clark-related anger will sublimate into Cubs-performance-related anger, and all will be well again. Er, not well. But, normal, I guess.
That is to say, this will all be forgotten by May. When folks see – or, more accurately, don't see – that Clark is barely visible to the average fan who isn't seeking out something to entertain their young kid, there won't be any more furor. Clark the Cub will just be a thing that exists, and will be adopted into our world, eliciting countless shrugs.
You know who won't be shrugging? Kids.
Last night, the Cubs demonstrated why they created Clark, and what he'll actually do – last night, together with Cubs prospects in town for the Rookie Development Camp, Clark visited children at Advocate Illinois Masonic Medical Center's Pediatric Developmental Center. Together, the Cubs said in a statement, they helped reinforce positive activities being taught to children with autism and other developmental challenges.
So, the next time you want to rip the Cubs for creating Clark, just remember that this is what he's about: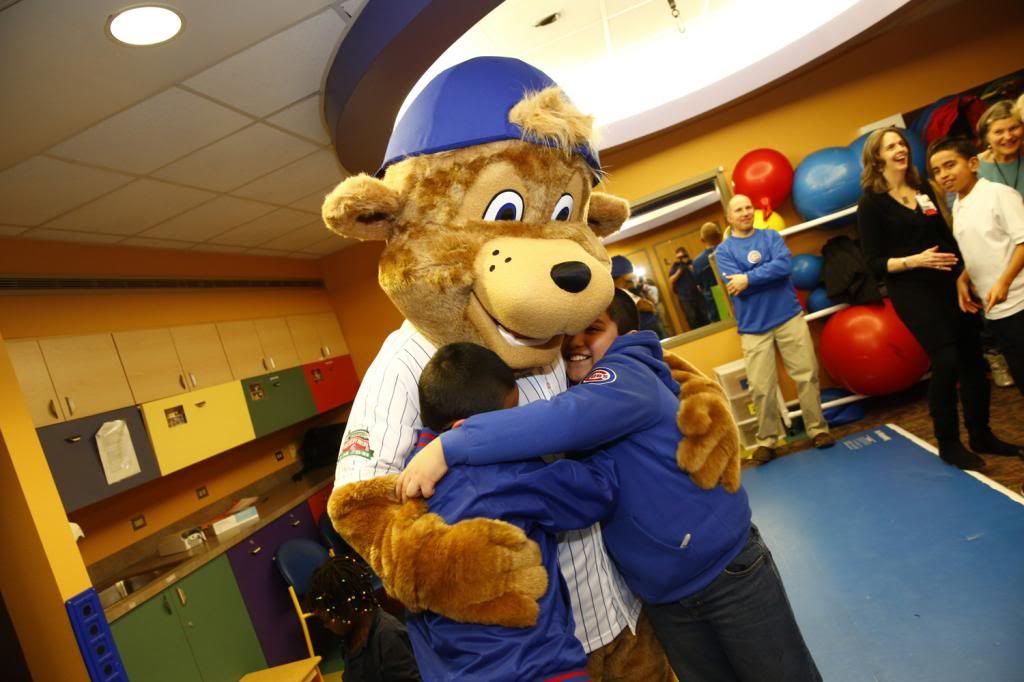 ---
Latest from Bleacher Nation: