Anthony Rizzo is Hot, Hitting Lefties, and Going the Other Way
Anthony Rizzo congratulated his starting pitcher, Jason Hammel, last night on his first NL win (Cubs.com). The only problem? It was Hammel's 29th NL win, including 27 with the Rockies and one with the Cubs. Last week. In a game played by Rizzo. This has been an exception to the I-won't-mention-pitcher-W-L-record rule, as it was a humorous story.
And since Rizzo just got the business, let's give him some love: dude has been on freaking fire for the last four games. His OPS has climbed from .544 on April 4 to .991 today. His .439 wOBA is 25th best in baseball, and his .459 OBP is 17th best.
Rizzo's had at least two hits in his last four games, and two of those were started by lefties. Indeed, Rizzo's line against lefties this year is .389/.389/.444, which is fan-freaking-tastic, especially considering his struggles against lefties last year. The sample size is tiny, but it's interesting to note that Rizzo has almost as many plate appearances against lefties this year (18) as righties (19). That won't hold over the course of a season, so, even if Rizzo regresses some against lefties (he will), his overall performance could remain way up there.
Also great on Rizzo: he seems to be going the other way quite a bit, which would be an encouraging sign as he increasingly faces dramatic shifts that will necessarily cut down on his BABIP if he stays pull heavy. It's early, but check out this spray chart from Texas Leaguers on Rizzo's batted balls:
Look at all the balls to the left! You still see the heavy smattering of ground ball outs to the right side, which will probably always be part of his game. But the volume of balls going the other way is absolutely staggering.
Compare it to last year's chart …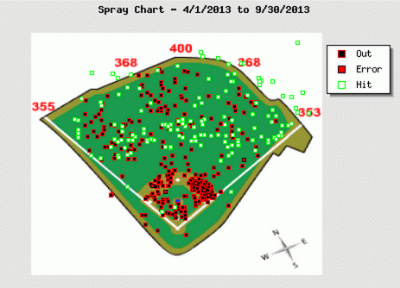 As you can see, although there are still plenty of hits to the left side of the field, the vast majority are on the pull-side. We'll see if this holds over the course of a season, but the early returns certainly look nice. Although you don't want Rizzo exclusively going the other way (as you can see in last year's chart, he's got quite a bit more pull-side power than opposite-field power, which is pretty much true for every player ever), spreading the ball around is going to lead to more production overall.
Good stuff so far, Mr. Rizzo.
---
Latest from Bleacher Nation: