High Fives for BN Shirts Around the World, and a Coupon Thing
With the baseball season underway, there are plenty of opportunities to show off your duds at the 'ole ballgame (like this anonymous BN'er whom I happened to spot on TV during a rendition of 'Go Cubs Go' – I don't know who you are, but here's your high five!), and around the world.
If you don't yet have your swell BN gear, there's a deal going on right now at the BN shop where you can get free shipping on any order if you you order two or more items. The special runs today, tomorrow, and Wednesday, only, and you have to use the coupon code SPRING14.
Check out a couple BN'ers taking in games this Spring at Cubs Park. Chuck did the obligatory – seriously, if you go to Cubs Park, you must indulge yourself the desire to take one of these pictures – pose in front of the marquee:
@BleacherNation Hard to make out but reppin' Bleacher Nation in AZ pic.twitter.com/CvjTxAJcyC

— Sensible Sports Fan (@recoil47) March 11, 2014
High five, Chad! And BN'er Chris took his mom to some Spring games this year, and even she donned the BN shirt:
@BleacherNation Mom at it again today in Arizona. pic.twitter.com/5cb86H195V

— Chris Cottrell (@OffAirOnPoint) March 15, 2014
High five to Chris and to Chris's mom!
BN'er Max is something of a world traveler, and he showed off his BN swag in Paris:
And in Stockholm: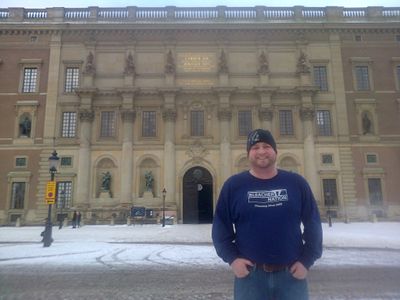 Double high-five, Max!
And, as BN'er Chad shows us, the BN experience can be a family thing: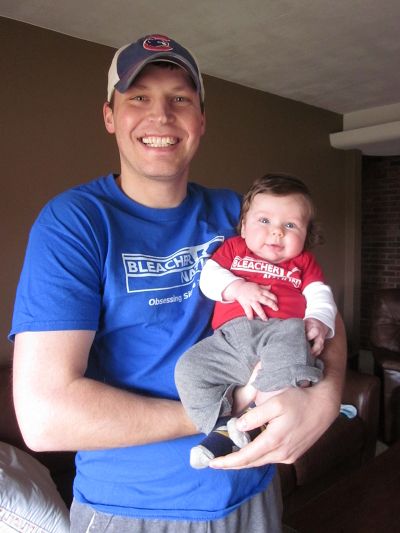 A giant high five for Chad, and a teeny baby high five for his boy! A see a future closer there. A reliable one.
Thanks to all of you for taking the time to create and share the pictures. My day has been made. Smiles have been had.
---
Latest from Bleacher Nation: