Charting: Jake Arrieta Probably Did Get Squeezed a Bit Last Night
Upon review of Jake Arrieta's pitch locations last night, he certainly could have been better. He wasn't just out of the zone from time to time – he was all over the place. Worse, from a performance standpoint, when he was in the zone, he wasn't always near his actual target. That he had five walks (four unintentional) in four innings isn't a huge surprise, and Arrieta was highly critical of himself after the game.
That all said, he probably deserved better. Taking a look at the chart of his pitches from the magnificent and time-sucking Brooks Baseball:
To the extent you're not able to tell (apologies for the size limitations), I count six pitches in the zone that were called balls (just two out of the zone that were called strikes), and another two or three that were very close. Out of just 82 pitches, having 6 of them called balls when they were actually strikes? That's pretty bad, and it completely changes the face of the at bats in which they took place.
What really stung is that each of Arrieta's four unintentional walks last night included at least one missed strike call. In other words, the majority of the missed calls actually wound up hurting him, rather than taking place in at bats that ended up a strikeout or a dribbler or whatever.
Was Arrieta wild last night? Yes. Was he going to have some issues regardless of how the zone was called? Maybe so. But, when you actually look at pitch locations, he probably should have wound up with one or two fewer walks, and maybe another inning or two of work.
And, to close, a little fun with the chart: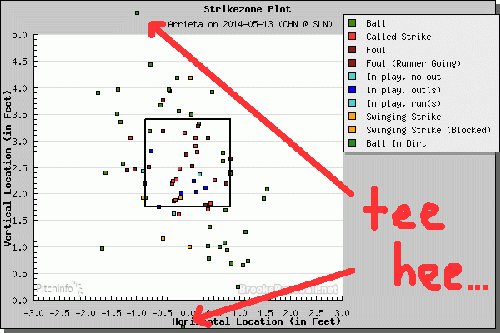 Yeah. There are pitches in those two locations.
---
Latest from Bleacher Nation: