Lukewarm Stove: Cubs High Asking Price for Baez, Twins and Darvish, Giants and McCutchen, More
The only saving grace of this ridiculously slow-moving stove is that the last month of the offseason (starting, basically, now) should be crazy once it gets going. And, at some point, it will get going. It might already be underway behind the scenes.
According to Scott Boras (via Ken Rosenthal at the Athletic), things have picked up in recent days (i.e. now that the holidays are over), and he's expecting transactions to start coming in. That may mean, however, that some of his top free agents – like Jake Arrieta, Eric Hosmer, and J.D. Martinez – will have to settle for deals south of their initial asks, but I'm not expecting Boras to lose too badly here. He rarely does. Hopefully things start to happen as soon, as he predicts.
Rosenthal also reconfirms that the clubs still in on Yu Darvish include the Astros, Cubs, Yankees (to a lesser extent because of the luxury tax), and Twins. The Rangers are a somewhat notable omission there, as are the Cardinals, who've never really been connected to Darvish, but have been connected to Jake Arrieta.
And to that end:
twins remain interested & in contact with top pitching target yu darvish but with the familiarity gm thad levine has with darvish from days together in texas (levine was also a key person in the texas recruiting process) they don't see a meeting as a necessity — not yet anyway.

— Jon Heyman (@JonHeyman) January 4, 2018
I don't want to read too much into three words, "not yet anyway," but if these people are all still waiting to decide if a MEETING is necessary, UGH. I get that the deep-winter market may have changed some teams' plans, but come on already.
If you recall, the Cubs were loosely connected to free agent Lorenzo Cain yesterday, but they're not the only surprising team in the NL Central to be attached to the center fielder. The Brewers may have also expressed some interest, according to Rosenthal's sources, but it sounds like they'd only pull the trigger if they were also able to first pull off a trade of an outfielder for a controllable starting pitcher (get in line, buddy). The Brewers have plenty of interesting prospects to pair with one of their outfielders, so the Cubs could have some serious competition in the market if they went this route.
Not that Cain is definitely coming to the NL Central, of course:
The #Rangers have ramped up their pursuit of free agent outfielder Lorenzo Cain, says a source.

— Jerry Crasnick (@jcrasnick) January 4, 2018
A little video on how good Cain is in center field, by the way – same positioning on the same trajectory and location … and Cain makes it look so much easier:
Can someone please sign Lorenzo Cain already? He's really very good.

MORE -> https://t.co/cqCuZ60Ff1 pic.twitter.com/2r2eGL6Po4

— Mike Petriello (@mike_petriello) January 4, 2018
Rosenthal has a ton of other interesting rumors in his article, including the Rays trouble finding the right price for Chris Archer, the Nationals/Astros inquiry into Marlins catcher J.T. Realmuto, and the Indians' willingness to move (previously-rumored Cubs target) Danny Salazar. Lots of good stuff in there you'll want to read.
And for all you Javy Baez fans out there, Rosenthal has this to say about his value to Chicago, in reference to those crazy Padres rumors at the Winter Meetings (remember those?): "The Padres balked at the Cubs' asking price for infielder Javier Baez at the winter meetings, moving on to other pursuits, sources say." The Cubs were apparently looking for a controllable starting pitcher – at a minimum – in return for Baez (though Rosenthal suggests that a top prospect (he mentions a couple of top 50 overall guys) could also get it done).
From where I stand, the right cost-controlled starting pitcher would be an understandable reason to give up Javy Baez, but, given the current competitive window, a top prospect or two would not. But don't get me wrong, if we're talking about one of the top pitching prospects in all of baseball and he's close to the Majors, that's an entirely different story, and something you have to at least consider. But a back-end top 50 type just doesn't make a ton of sense for the Cubs right now, to say nothing of the potential value disconnect there.
According to Jon Morosi (MLB.com), the Pirates have been in contact with the Giants on a trade for impending free agent outfielder Andrew McCutchen, though nothing is imminent (oh, you don't say), because they're still waiting out the free agent market (J.D. Martinez, Lorenzo Cain, Jay Bruce, and Carlos Gonzalez, specifically). Apparently the Giants are also reluctant to give up top prospects for McCutchen after trading for Evan Longoria earlier this winter, but we'll see what happens. McCutchen has been involved in rumors a lot this offseason, but rarely have they been so specific. And the Pirates seem to be on the brink of shipping out McCutchen, Gerrit Cole (Yankees?), and possibly even Josh Harrison before the season starts. Obviously that could have a significant in-season impact on the Cubs.
A hilarious story at the New York Times tells the tale of how GMs are using more and more text messages – including gifs/emojis – in their negotiations with other teams, agents, and players. Sometimes, in the case of a misunderstood thumbs up (one side thought this represented "Done Deal" and the other side was just trying to show that he received the message – Lulz), this can be a problem. Other times, it's just a funny response to an unfavorable outcome: "During the recent winter meetings, Chris Antonetti, the president of the Indians, thought he was making progress with another general manager on a potential trade. 'I guess I gave him an answer he didn't like,' he said, 'and he sent back a GIF that was quite colorful.'" I'm assuming it was Jed Hoyer dropping this one when the Indians asked for Ian Happ AND Kyle Schwarber: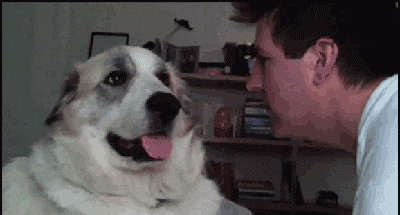 Brett Taylor contributed to this post.
---
Latest from Bleacher Nation: