Super-Utility-Man Ben Zobrist Understands He Won't Be an Everyday Starter Now
When the Chicago Cubs signed Jon Lester to a six-year/$155 million contract before the start of the 2015 season, we were all aware of the fact that the first few years of the deal would probably look a whole lot better than the last few, given his age/expected declining performance.
As it turns out, he's basically already been "worth" his contract and is in a position to make it an even more excellent deal … but the overall point remains: Sometimes, you sign a guy – even an older guy – to a big, expensive contract, because you need to get him in the door. You need what he can add *right now* and you deal with the fallout later.
Enter Ben Zobrist.
When the Cubs' 2015 season culminated in a surprise trip to the NLCS and the 2016 season looked like it might really be the year, the Cubs made some dramatic, direction-changing moves. Among them: shipping shortstop Starlin Castro to the Yankees the same day they signed a 34-year-old Ben Zobrist to a sizable four-year/$56 million deal, because they needed what he could add *right now.*
And guess what …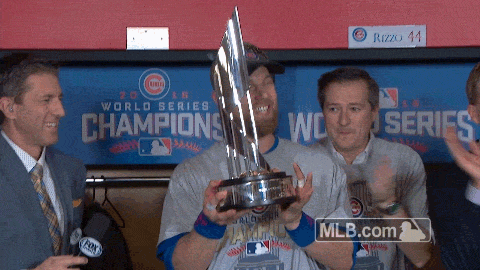 … it worked out just fine.
In 2016, Ben Zobrist played in 147 games for the Cubs (the most he'd seen since 2013), while slashing an excellent .272/.386/.446 (123 wRC+) and earning the third All-Star appearance of his brilliant career.
He was also instrumental in bringing the North Side of Chicago their first World Series championship in over 100 years, but who's counting?
The story, however, was quite a bit different for Zobrist in 2017.
"Last year was one of the most difficult seasons I've ever had as a player," Zobrist said to Vinnie Duber of NBC Sports Chicago. "At this point in my career, I'm not going to play 158 games or whatever. I'm going to have to manage and figure out how to play great for 130. And I think that would be a good thing to shoot for, if I was healthy, is playing 130 games of nine innings would be great."
Don't misunderstand Zobrist, he's fully healthy and prepared for the season ahead, he's just being realistic and honest about 1) his ability to produce at the highest possible level and 2) the talent elsewhere on the roster.
In 2017, Zobrist dealt with a number of nagging injuries, but none were as visibly impactful as his injured left wrist, which sapped him of his power, ability to lift the ball with consistency, and, at times, the option to swing from the right side of the plate.
But now, a year later, Zobrist knows the reality of his situation, and is ready to do whatever it takes – including more rides on the bench than usual – to help his team reach their goals: "I'm prepared for that, if that's what it comes to. I told him, whatever they need me to do. I'm 36 as a player, so I'm just trying to win championships at this point. It's not really about what I'm trying to accomplish as an individual," Zobrist said. "Everybody wants to have great seasons, but I've told (Maddon), 'Wherever you need me, I'm ready.'"
For his part, Joe Maddon says he'll keep an open mind, but knows that Zobrist still has value to add, and looks to be in great shape.
With Javy Baez solidifying himself at second base, the continued growth of Albert Almora Jr., the expected bounce back of Kyle Schwarber, and the emergence of Ian Happ, finding at-bats for Zobrist will be harder than it ever has been. But maybe, it'll allow him to maximize his performance.
With fewer opportunities, Zobrist should (ideally) remain healthier as the season goes on, yes, but he'll also be put in the best possible spots to succeed. And with fewer, but more strategic deployments, Zobrist might be able to keep up a familiarly high-level of production over the course of the season. And if it turns out he can stretch his legs beyond that, then GREAT! Either way, strategic deployment should not only maximize Zobrist's performance, but also the total value he brings to the Cubs, because he can play just about anywhere.
We all want to see guys like Baez and Happ lead the Cubs into the future, but it's also, you know, it's already crunch-time. The Cubs are smack-dab in the middle of their competitive window. So whoever can help the Cubs win *right now* should be in the lineup. Maybe that'll be Zobrist, maybe not. But at least he and Maddon are aware of his skills and physical limitations, as well as the talent up and down the rest of the roster. That's a good place to be, especially with everyone on board.
You can read much more from Ben Zobrist and Joe Maddon on the super-utility-man's season ahead right here at NBC Sports Chicago.
---
Latest from Bleacher Nation: