Yu Darvish Showed Four Pitches, Touched 95 MPH, and Felt Great in His Cubs' Debut
The last meaningful game that new Cubs right-hander Yu Darvish started was for the Dodgers against the Astros in Game 7 of the 2017 World Series.
Unfortunately, perhaps while tipping his pitches, Darvish allowed four earned runs on three hits and a walk in just 1.2 innings pitched, and the Dodgers went on to lose the game and the series.
Over the offseason, Darvish took the loss and two rough World Series starts very hard, and, in his own words, lost a noticeable amount of weight over the winter, "because of what happened in the World Series," per ESPN. In fact, Darvish lost so much weight that he was worried about the impact it might have on his velocity in yesterday's debut with the Cubs.
Well, good news on that front, I suppose, as Darvish was lighting up the radar gun with 95 MPH fastballs in his first outing. Even if you think the Spring Training gun is hot by a full click, a veteran like Darvish at 94 MPH in his Spring Training debut is arguably still well ahead of schedule, and that's even after accounting for the scratched start last week.
You saw this video earlier, but if you didn't here's how Darvish looked yesterday:
Just a taste. pic.twitter.com/pUTF3FAMXK

— Chicago Cubs (@Cubs) March 7, 2018
Darvish tossed two full innings (standard for a Spring debut), allowing one earned run on no hits, two walks, and four strikeouts. It was a very eventful first inning (walks, wild pitches, a stolen base), but Darvish did strike out the side, before retiring them in order in the second.
And perhaps most important, Darvish felt good about his start. Not only was he working with plenty of fastball velocity, he worked in three other pitches (curveball, slider, and changeup) and seems to be happy enough with how everything felt.
Kris Bryant was impressed with what he saw (Cubs.com): "His stuff is sharp, it moves, he throws hard. You have to stay on the fastball. His breaking stuff is really sharp and any time you have a pitcher who is going to throw a loopy curve in there, it's not a comfortable at-bat."
And then Ben Zobrist got me very excited (Cubs.com): "I think he adds fear to an offensive lineup, and if not fear, it's a whole lot of uncomfortability up there. There's nothing you can plan on – 'Oh, I'm going to get this today and I'm going to take this kind of swing.' You never know what you're going to get. He can throw five different pitches in a bunch of different counts …. He can create a lot of havoc in an offensive approach."
(This is the face I made immediately upon reading that line from Zobrist):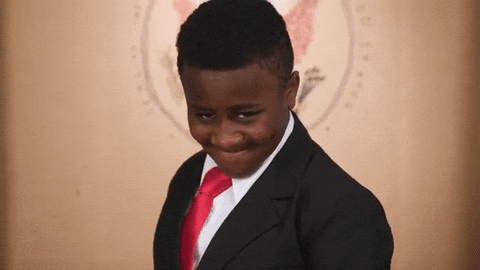 Darvish and his manager both tip-toed around the whole "not tipping his pitches" thing, but if you're dying for more on that, know that Maddon seems to believe they 1) have already figured out what happened in those World Series starts, 2) don't believe it was exclusively about tipping pitches, and 3) have already worked on a way to organically conceal his pitches better now.
Other than that, I think it's hard to say that yesterday was anything but a huge success. Darvish used four different pitches, worked from 73 MPH up to 95 MPH, struck out four batters, and began solidifying his relationship with catcher Willson Contreras. All things considered, that's a great start to his Cubs career.
You can read more from Darvish, his manager, and his teammates from ESPN and Cubs.com, or watch his postgame interview right here at the Chicago Tribune.
---
Latest from Bleacher Nation: