REPORT: Cubs "More Enamored" With Future Free Agent Classes Than This One
For months – and in certain cases, years – we were told that this 2018-2019 free agent class was going to be historic, and that the Cubs would find themselves right at the center of it, probably alongside Bryce Harper (or someone like him).
Well, a couple things on that front: thanks to a rash of underperformances over the past two years, the historic class certainly thinned dramatically. And thanks to an explosion of contracts on the books, the certainty of the Cubs being there in the mix for guys like Harper has been seriously called into question.
In case you missed it, there've been multiple reports already this offseason regarding the Cubs' apparent financial limitations – not only as they relate to Harper, but perhaps as they relate to any player in the top tier of free agency. Theo Epstein tried to swat away some of those rumors, but there remains something far from certainty that the Cubs will be balling out this winter to sign one of the top free agents.
Indeed, even if there will be a little bit more room to maneuver this winter than it sounds … that's still a far cry from what I think we were led to believe before the offseason began, right? I mean, sure, we may have needed to adjust our expectations given the state of the luxury tax payroll (especially after the Cole Hamels decision), but the draft related penalties of the third/highest tier aren't all that prohibitive and the rest of the penalties come in the form of money – which shouldn't be a problem for a big market team in the thick of a competitive window, with dollars coming off the books after next year, and a massive TV deal in the works after next season? Right?
Maybe. Maybe not. As Brett said yesterday, we're kind of forced to chill and see how things actually play out.
But what if there's another, additional explanation for why the Cubs might not go all out this offseason?
At MLB.com, Jon Morosi drops something kinda wild on that front, which is equal parts plausible and maddening, with respect to a potential Cubbie-pursuit of Manny Machado. Morosi writes, "In general, the Cubs seem more enamored with players becoming available via free agency in future offseasons – such as Rockies third baseman Nolan Arenado – than those in the current class."
Here's live footage of me reading that sentence: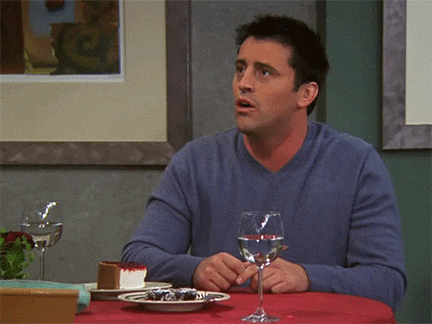 Don't get me wrong, that does make sense, in isolation. A lot can change between now and next winter, but there are plenty of interesting names, particularly on the offensive side of the ball, many of whom could make sense for the Cubs (Arenado, Paul Goldschmidt, Scooter Gennett, Xander Bogaerts, Did Gregorius, Matt Carpenter, Marcell Ozuna, Corey Dickerson, Yasiel Puig, etc.) – including, as you can see, several middle and corner infield types, where the Cubs might theoretically need the most help/have space (with Addison Russell's potential departure (or not?) and Kris Bryant's ability to play the outfield).
Plus, as I mentioned, the Cubs have (1) a fair amount of money coming off the books after next season, (2) a good shot at a new revenue stream in the TV deal, and (3) a proclivity to stagger their big offseason spending.
But still, even those arguments aren't a totally convincing, thorough explanation for why the Cubs would sit out this year's class. Also, even if next year's class is preferred, it still kinda comes back to money: Since tomorrow is not guaranteed, the only thing sitting out this year ensures is that you don't spend additional money right now.
For one thing, a big chunk of the "money" coming off the books after 2019 is the $20M they just committed to Cole Hamels, despite having six legitimate starting options already in house not including him, including four no-brainer/top-3 types in Jon Lester, Kyle Hendricks, Jose Quintana, and Yu Darvish. And for another thing, I'm just not sure investing heavily in Yu Darvish – healthy or not – made sense if it necessarily prohibited you from getting involved with the top free agents this winter. Point there being, maybe it's a reasonable excuse now, but it would be a situation the Cubs put on themselves.
Obviously, you can't change the past – maybe they regret going after Darvish or finding themselves in a position where adding $20M in AAV for Cole Hamels was necessary (more on that later). Or maybe that was all part of a crafty scheme to avoid this offseason altogether and save up for next offseason. That certainly seems an unnecessarily risky approach in the middle of a prime competitive window, though, and it's hard not to hear it right now, in this climate, as something of a purely retconned excuse.
We'll see. Maybe the Cubs will be fine in 2019, and then will indeed go hog wild next year. Or maybe the Cubs will spend aggressively this offseason after all, and this report, like the others, was just a smokescreen. Increasingly, though, it looks like the Cubs made certain decisions in the recent past that may have pushed them to focus on the next free agent class, whether they truly ultimately wanted to or not.
Brett Taylor contributed to this post.
---
Latest from Bleacher Nation: