El Mago Gonna El Mago: Javy Baez Hit a Batting Practice Homers Left-Handed (VIDEO)
Did you know that Javy Baez's first name is Ednel? Or did you think it was actually El Mago?
Sometimes I wonder, because the guy is just so magical in every way that it would be appropriate if his name literally indicated he was a magician.
For example, Baez, who is nominally left-handed but does everything on the baseball field like a righty, took some batting practice today as a lefty … and did this:
Javy Baez hitting a homer…left handed. pic.twitter.com/XHDDcCdC08

— Ryan (@RyanQDavis) April 13, 2019
Javy just hit back-to-back HRs left handed during BP.

And these weren't cheap shots. Both blasts went about 10-15 rows up the right-center field bleachers. pic.twitter.com/GsHnAwL3pZ

— Tony Andracki (@TonyAndracki23) April 13, 2019
You can tell from the sound and the turned heads that Baez is getting these. Not a bad looking lefty swing, either.
Javy out there like: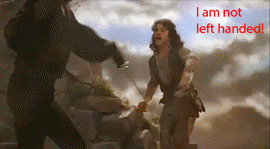 ---
Latest from Bleacher Nation: