Ian Happ Has *THE BEST* Home Run Celebration Idea
Please make this happen. It's probably gonna take someone hitting a HUGE game-changing homer or like a three-homer game or something, but I need to see this.
Ian Happ, dropping the best home run celebration idea on 670 The Score today: as the player who hit the homer rounds the bases, his teammates in the dugout quickly head up into the stands. Then, when he arrives at the dugout, not only will the home-run-hitting hero not have teammates to greet him, he'll instead hear them going nuts from the stands just outside the dugout.
That's when he goes out for the curtain call, as requested by his own teammates in the stands.
*chef kiss*
Of course, Happ says he's gotta get his teammates on board with the idea (before another team steals it): "That'd be incredible. I can't get my teammates on board with it. I think at some point at home, we're going to be able to get there. But it's so easy right now to do whatever you want. You can run into the stands, and it wouldn't affect any part of the game. Especially at Wrigley, if everybody sprinted out of the dugout while he was running around the bases and was sitting right behind the dugout and gave him a standing ovation until he came out and gave a curtain call, I think that'd be awesome. Some of those things that you need just to keep everybody involved, to keep everybody having a good time. I think those would be really good."
I could not agree more, Ian. This must happen.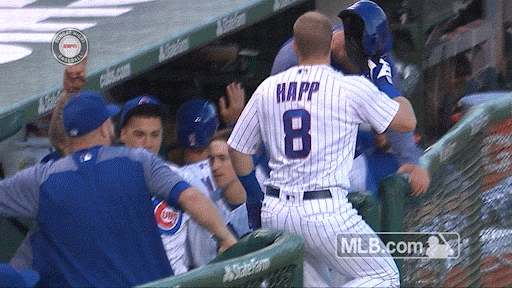 ---
Latest from Bleacher Nation: