Alec Mills on Beating His Former Team: "My job is to make it hurt"
Don't let the spectacles or the command/control/pitchability profile fool you: Alec Mills is a stone cold monster.
Last night, after shutting his former team out over seven innings, he dropped this line about facing the Royals:
Cubs starter Alec Mills, after 7 shutout vs KC, who traded him away several years ago:

"My job is to make it hurt whenever I face them."

— Jesse Rogers (@JesseRogersESPN) August 4, 2020
Yo. Mills giving off that big Ivan Drago energy.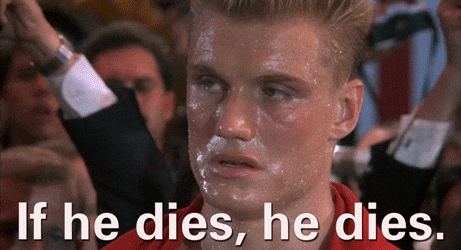 Mills, 28, was a borderline guy four years ago with the Royals. He was a well-regarded prospect, and pretty clearly going to be too good to just hang out at AAA forever. He also clearly had some starter in him, with three+ usable pitches at the time. But to get over the hump to the big leagues, the Royals seemed to think it wasn't going to happen outside of the bullpen. So when the Royals got into a 40-man crunch, the Cubs pounced on a guy they felt like still had a starter's DNA. (Incidentally, the guy the Cubs traded to the Royals for Mills – outfield prospect Donnie Dewees – ultimately came back to the Cubs later in a separate trade.)
Once in the Cubs organization, Mills was injured his first year (2017), but pitched well enough in 2018 to get some spot appearances at the big league level in 2018. Then, in 2019, among other things, he added the slow curve at AAA, and he really took off from there.
Speaking of the slow curve, he used it to tremendous effect again last night, coming in at an average of just 66 mph. It creates a third velocity tier for Mills' five pitches, which is a nightmare for batters trying to time up their swings:
And note there: it's not just the three tiers, it's the fact that in the top two tiers, he's got nearly identical pitches in velocity that move in opposite directions. This is what you'd create in a lab if you were trying to maximize success for a guy without a huge arm or absurd stuff.
Mills' ability to change speeds so dramatically and steal strikes could conceivably allow him to outperform his peripherals more than most (you do see that not infrequently with excellent command pitchers, too, as they have more success missing barrels, so to speak). He's constantly ahead in counts, and hitters are never in the driver's seat. Still, through two starts, he's looking at a 93.0% left-on-base rate, which will absolutely regress, and a .114 BABIP, which is still lower than you'd expect even for his excellent contact.
But that contact, man. Look at it from last night, where the Royals just couldn't do ANYTHING to square the ball up. Not a single barrel, and only one sure-fire hit in the bunch:
The Royals' quality of contact last night against Alec Mills was supremely awful. And that is great! pic.twitter.com/h0Vo5Rr5TU

— Bleacher Nation (@BleacherNation) August 4, 2020
Enjoy the night:
---
Latest from Bleacher Nation: