Lukewarm Stove: Cruz Trade Fallout, Padres Conspiracy Theories, Mets, Yankees, More
The 2021 MLB Trade deadline is one week from today! Gird your loins.
Nelson Cruz Fallout
And it kicked off in earnest when MLB's 19th best hitter, Nelson Cruz (142 wRC+), was traded to the Rays last night. In exchange, the Twins got two Triple-A righties (both inside the top-15 of a loaded Rays system), a return that has been described both nationally and locally as a very solid return for Minnesota:
The price was high, as the Rays gave up two promising advanced pitching prospects in Joe Ryan and Drew Strotman, and will take on the $5 million or so remaining on Cruz's one-year, $13 million deal for a several-month rental.
It is, indeed, a seller's market, and that's very good news for the Cubs. But this isn't where the story ends.
The Rays weren't the only teams trying for Cruz. Jon Heyman reports that the Blue Jays checked in (though their focus remains on pitching). Lindsey Adler heard that the Yankees had touched base on Cruz. And Ken Rosenthal even said the PADRES – a National League team with just five more interleague games this season – made a play for pure DH-man Nelson Cruz.
Ken Rosenthal reports that the Padres had inquired about how often Cruz takes grounders at first and second base (he has not played a defensive position since 2018), but otherwise would have used him "almost exclusively as a pinch hitter" and saw him as a "major upgrade to his bench." Nelson Cruz. On the bench. As a pinch hitter. Fernando Tatis Jr. is the only better Padres hitter and they'd have put Cruz on the bench. Very weird. If it didn't come from Ken Rosenthal, I wouldn't believe it. And even in light of that, you have to wonder if there's some other motivation (from the Padres, the Twins, the Rays … someone else?) to make it known that the Padres are looking at all sorts of creative alternatives to improve their offense? Yeah. It's probably more than that anything else.
As for the Rays, it was a pretty aggressive deal (especially as they took on all of Cruz's remaining $5M+, which is nearly 10% of their Opening day salary!), which is perhaps why Rosenthal wonders if they might try to turn around and offer Rich Hill to the Dodgers or Mets. What an interesting franchise. Even after losing Andrew Friedman (Dodgers) and Chaim Bloom (Red Sox) to big markets, they continue to make big, unsuspecting moves.
I mean, they were in the World Series last year, but then traded Blake Snell before the season, and yet they're a game out of first place in the AL East and just made a huge push by adding the best hitter on the market. Smart team.
What's Next, Twins?
Like the Diamondbacks, Rangers, and Cubs, the Twins are one of the clearest sellers in the market, with a lot of useful pieces to deal. According to Jon Heyman, other potentially available players include infielder Andrelton Simmons, outfielder Byron Buxton, relievers Taylor Rogers, Hansel Robles, and Alex Colome, and starters Michael Pineda, J.A. Happ, and, of course, arguably the top available starter on the market: Jose Berrios, who's asking price remains very high.
The Twins seek a prospect-big leaguer combo back for Berrios described as a "shoot the moon" ask. They may lower the request as the deadline approaches but now rivals doubt he will be traded. Twins people like their nucleus and are telling folks they don't want to "punt" on 2022.

— Jon Heyman (@JonHeyman) July 23, 2021
Your rooting interest continues to be ENORMOUSLY high prices for sellers, even ones in direct competition with Cubs trade chips. So this is a good start.
Yankees Also Checked in on Story
Before we move onto the Padres stuff, let me add that in addition to checking in on the availability of Nelson Cruz, the Yankees have also asked about Trevor Story.
The Yankees are among the teams that have checked in on Trevor Story. Presumably, if they followed through, they'd move Gleyber Torres back to second base.

— Buster Olney (@Buster_ESPN) July 22, 2021
The idea there would be to push Gleyber Torres back to second and D.J. LeMahieu to first base, but I tend to doubt the 8.0-games back Yankees are really as serious as the rumors sound. Perhaps they're just doing their best to push the prices up on the Red Sox and Rays.
Back to the Padres
As if the reported interest in Nelson Cruz wasn't enough of a signal, multiple (Kevin Acee) reports (Dennis Lin) out of San Diego indicate an aggressive Padres team at the deadline. Specifically, Acee hears that the Padres are "expected to add a starting pitcher and possibly an outfield bat," which, hopefully, I don't have to spell out the overlap with the Cubs there too much (Zach Davies, Kris Bryant), but there it is.
And, yet, maybe I do. In listing potential options for San Diego, Acee and Lin go out of their way to identify Kenta Maeda (who hasn't been on the rumor mill at all, as far as I've seen), Danny Duffy (who's hurt and might not be traded), Jon Gray (who knows what the Rockies will do (do they even have an exec in charge right now?)), Jordan Lyles (who's not any good), Merrill Kelly (a realistic multi-year option), and Kyle Gibson (who's probably the most attractive, realistic option). Notice anyone missing? Yeah, that would be the former Padre – and clearly healthy and available starter – Zach Davies. It's odd, especially given his substantial success with the Padres.
I hate putting on my tinfoil hat, but it sure seems like both writers chose to make it VERY clear that there are totally other options out there on the starting pitching market. And it's especially notable, when you consider the Nelson Cruz rumor and their additional, reported interest in Joey Gallo (who also remains unlikely to be traded at this point, even if he's technically "available").
I know, I know … I look like this right now: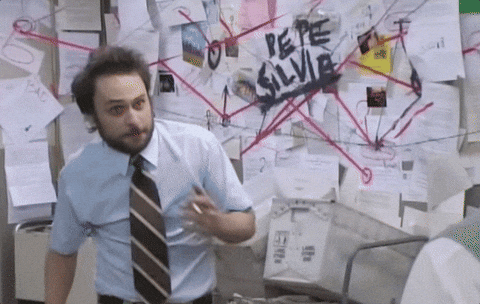 But if you're going to mention ALL the available starting pitchers besides the ONE guy who used to be on your team *and* also suggest, with a straight-face, that Nelson Cruz is someone you really expect to out-bid AL Teams for, well … I'm taking notice.
Mets Challenges
According to Joel Sherman, the Mets, Padres, Dodgers (and maybe a few others) are the most aggressive buyers in the market, but he envisions a tough route to a blockbuster trade this week for three reasons:
1. The lack of impact-pitching. All the usual suspects are mentioned, but if Berrios is not traded, then Gibson is the best starter available … and he wouldn't even start a playoff game for them, if everyone was back and healhty (Jacob deGrom, Carlos Carrasco, Noah Syndgergaard, Marcus Stroman, and Taijuan Walker could all be available and that's already too many). Davies is name-checked, but he's not better than Gibson, so take the hint.
2. The lack of prospect depth – you should give it a read for full context, but they lost some prospects in the Lindor trade, some other prospects are hurt, and some other prospects are far away. Add it all up and a REALLY splashy trade may just be too difficult to realistically pull off.
3. Cohen can't even use his financial might, because there aren't any huge salary dumps of which to take advantage. This is the section in which Javy Baez and Kris Bryant are mentioned, but Baez gets called out for leading the majors in strikeouts/ranking second among shortstops in errors (as if he's not a good shortstop) and Kris Bryant, well, read this for yourself, because OOF:
Kris Bryant has what the Cubs are calling right hamstring fatigue. But there just might be industry fatigue with the player. The Cubs have been open to trading him since 2019 and their price has not been met, suggesting his name is bigger than his value within the game.
Once again … this is a signal. It's not entirely unfair, but it's also a huge "HE'S NOT EVEN THAT GOOD." Whatever. Teams want certain messages out there this time of year.
Odds and Ends:
•   Although earlier reports had suggested that Max Scherzer would request an extension before approving a trade to any team, that no longer seems to be the case. Scott Boras told the Washington Post that other non-extension contract perks could do the trick. The Nationals figure to take things right up to the deadline before they decide to buy or sell.
•   The Dodgers are looking at Rangers closer Ian Kennedy, but I remain unconcerned about any other closing candidates on the market as competition for Craig Kimbrel. He's the best option and no one else is going to surpass him at this point absent an injury (jinx, double-jinx, A-B-C-blackout). Now, with that said, these other closers could impact the market for guys like Andrew Chafin and Ryan Tepera, but still, both are pretty excellent options.
---
Latest from Bleacher Nation: