Coming off a dominant performance by Brian Harman at the 151st Open Championship, the PGA Tour heads back stateside for the inevitable post-major letdown and the 3M Open held at TPC Twin Cities. Designed by the legendary golfer and architect Arnold Palmer, the course was laid out on a 235-acre tract of property on the site of a former sod farm in the Minneapolis suburb of Blaine, Minnesota.
After two straight events on links-style courses, the 3M Open also signals a return to the familiar confines of parkland-style golf. But TPC Twin Cities is not your typical parkland course. With 27 different bodies of water spread throughout the property, along with a full-sized housing development, it displays as more of a "Florida" course than one up north in Minnesota.
While TPC Twin Cities has one of the highest birdie rates on Tour it also has one of the highest "double-bogey or worse" rates as the multitude of water hazards and thick rough present a challenge to those who are not in good form. This course also contains numerous "risk-reward" holes which provide a level of excitement along with a challenging final stretch of holes that on Sunday will ensure that no lead is safe.
With it being the tenth longest course on Tour combined with the premium placed on accuracy off the tee thanks to nine different holes with water near the landing zone, players strong in Total Driving will have a huge edge. This is clearly evidenced by three excellent players off the tee among the past winners here in Tony Finau, Cameron Champ, and Matt Wolff. When adding the importance of gaining strokes on approach into the mix, TPC Twin Cities rates as one of the most ball-striking heavy courses on Tour with 59% of total strokes gained coming in this category.
2020 winner, Michael Thompson summed up the mental aspect of TPC Twin Cities quite well. "It is very much like PGA National. You know what shots you have to hit. There's no if, and or but about it, you've just got to step up and hit the shot, and execute. If you're not confident over the ball, you're more likely to make a poor swing, which is going to result in a penalty. So you have to be really diligent with your visualizations, your commitment to each shot, pick your target, and trust it."
The Field
The week after a major typically tends to struggle to attract big names. For this week's 3M Open, 11 of the top 50 and 32 of the top 100 players in the world are in attendance. There is a small upper tier of players headlined by returning champion, Tony Finau, Cameron Young, Justin Thomas, Sungjae Im, Sepp Straka, and Hideki Matsuyama. There is some quality depth in the field this week compared to other editions of the 3M with players like Sahith Theegala, Tom Hoge, Emiliano Grillo, Billy Horschel, J.T. Poston, Ludvig Aberg, and Adam Hadwin. There are also a couple of high-profile DP World Tour players who are trying to gain their full-time PGA Tour card, in Ryan Fox and Nicolai Hojgaard.
As we head down the final stretch of the season and the typical weaker fields that come along with it, there is still a massive amount of FedEx Cup points on the line. Motivation becomes a real intangible this time of year as many players will be trying to either qualify or better their position with just two events remaining before the FedExCup Playoffs begin.
This is magnified even more so this year as only the top 70 in the FedExCup point standings will be eligible for the playoffs. Thomas, Davis Thompson, Lee Hodges, Justin Suh, Cam Davis, and Garrick Higgo are among the group of players that are currently on the outside looking in and will look to improve their placement this week.
Adding to the motivation narrative, there are numerous players trying to impress their respective Ryder Cup captains in hopes of being named to the American or European team. On the American side, this would include Justin Thomas and Cameron Young. For Europe, Aberg, Hojgaard, and Aaron Rai will have another chance to make a strong impression with a high finish.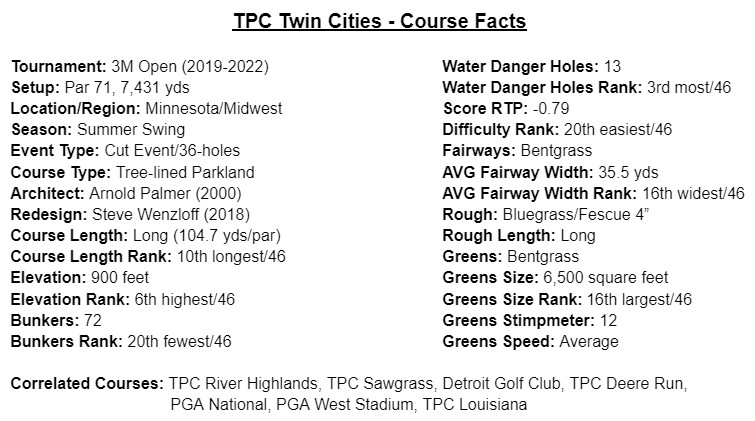 TPC Twin Cities – Course History
TPC Twin Cities was designed by Arnold Palmer in 2000, in collaboration with former PGA Tour great Tom Lehman. From 2001-2018, the course was an annual stop on the Champions Tour. After that contract ended, the course was renovated to prepare itself to host the 3M Open starting in 2019. The 2018 renovation (led by Steve Wenzloff) included the narrowing of fairways, the addition of new bunkers and tees, and the lengthening of the course to its current distance.
This will be the fifth edition of the 3M Open which has continued to be an annual staple on the PGA Tour schedule. There are not many changes to the course from last year other than the tee box on the second hole being leveled and expanded. The rough, which was grown one inch higher for last year's tournament, will remain at four inches for this year's event.
Finish Position and Strokes Gained Event History (2019-2022)
This includes the average finish position and Strokes Gained per round in each category. Players are sorted by SG: Total. TPC Twin Cities is the 8th least predictive course on Tour.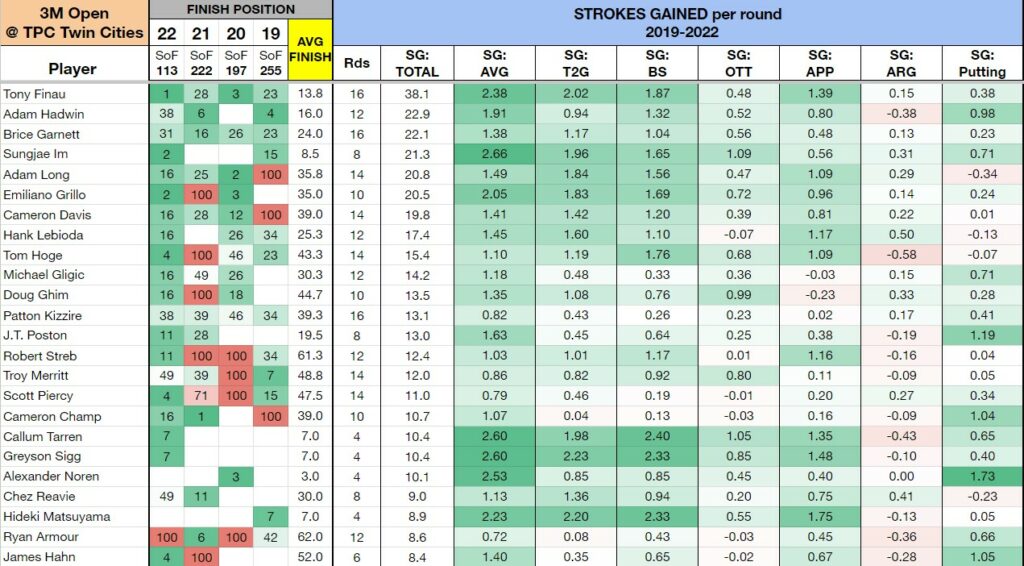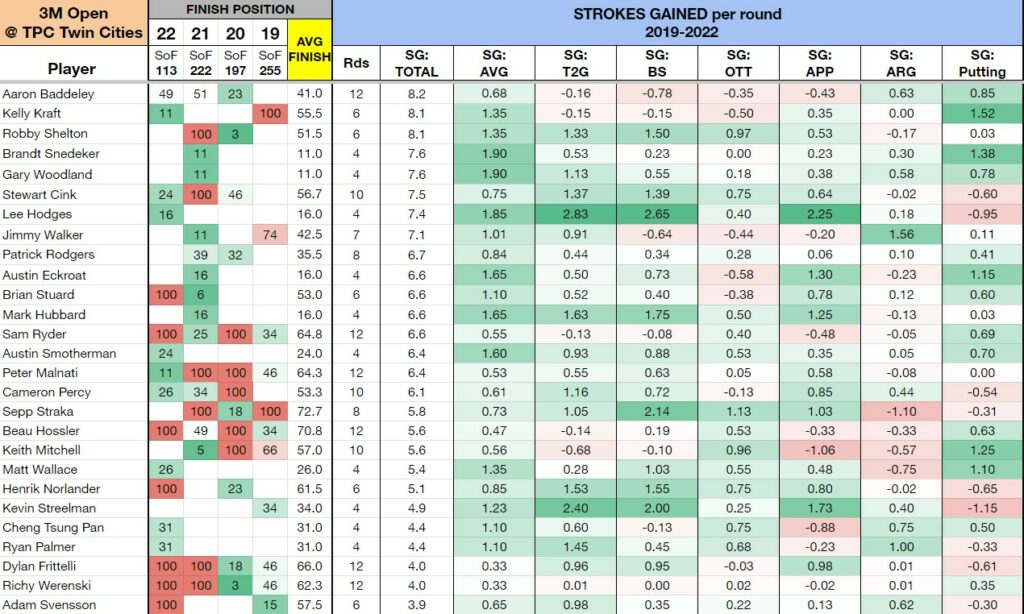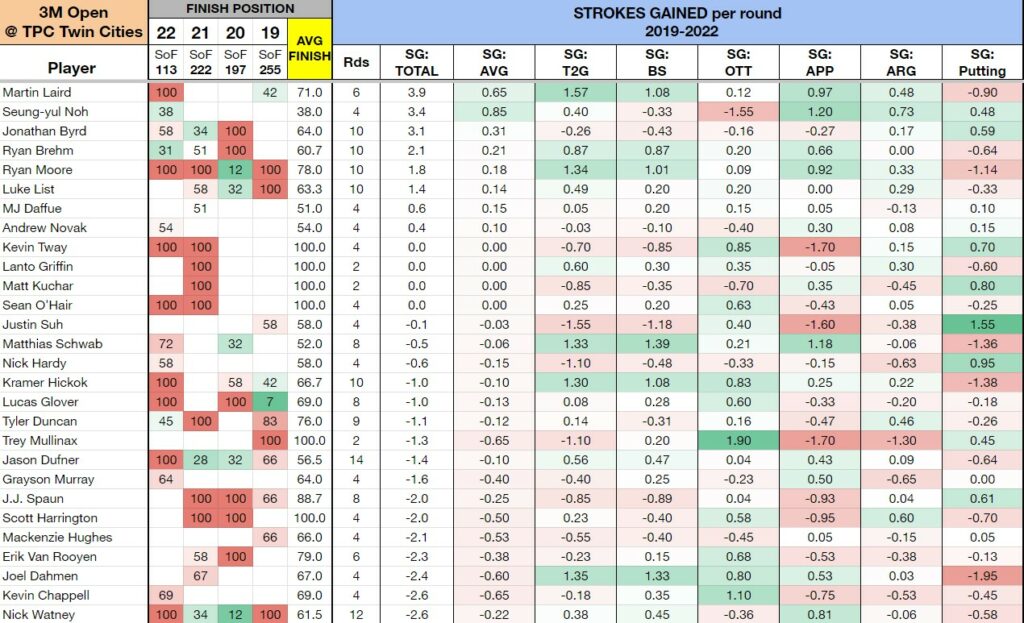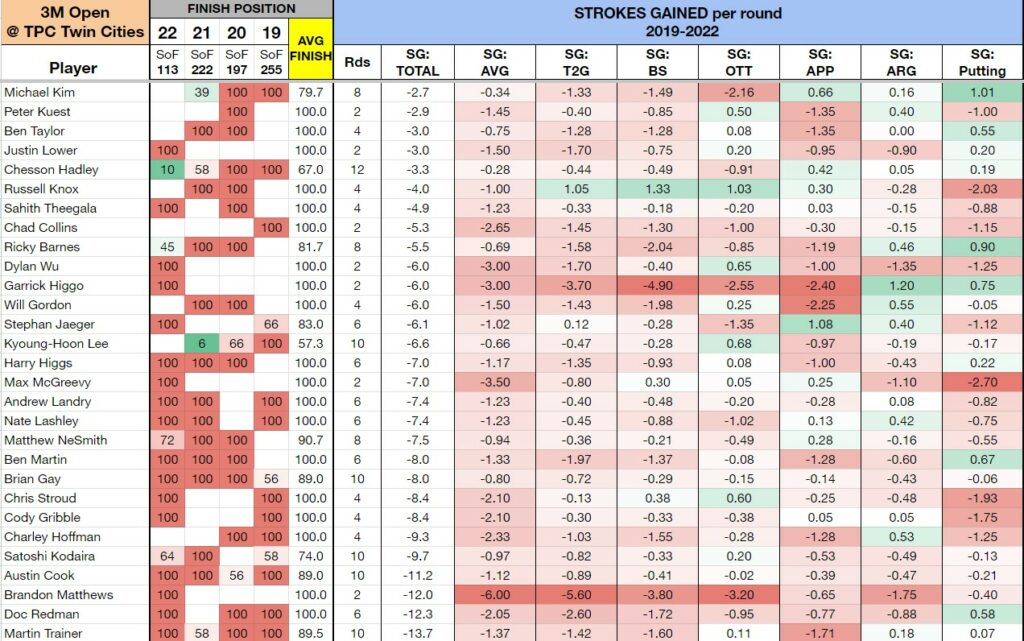 Course Features
Located in the "Land of 10,000 Lakes", TPC Twin Cities is a Par 71, 7,431-yard course that is relatively flat and that features bentgrass fairways and greens, native prairie grasses, and 27 total bodies of water which are framed by mature oak, spruce, and pine trees. In general, the course is quite bland from an architectural viewpoint. Many of the holes are indistinguishable because of all the water hazards, and the course has a Florida-type feel to it. There are also so many houses lining the course that the beauty of the property is somewhat tainted.
Before the inaugural event back in 2019, tournament founder Hollis Cavner gave a brutally honest description of how organizers wanted the 3M Open to play by saying, "We want birdies and train wrecks, and we don't want to be the hardest golf course on the tour". While the course features tons of birdies and low scoring, the data points to it not necessarily being a complete "birdie-fest." Thanks to longer rough, a firmer course, and winds gusting to 20 mph for each round, last year's event actually played 0.44 strokes over par. And 2021's victor, Cameron Champ won with the event's highest score at 15-under. Overall, scoring in the event's four-year history has only averaged 0.79 strokes under par.
As far as why scoring isn't lower, that leads us to the "train wrecks" part. The 3M Open has always been about getting in position off the tee to attack flags, while also trying to steer clear of the 13 water hazards in play. As the course's main defense, nine of these hazards will mentally challenge golfers on their tee shots. Stray drives that end up in the water tend to lead to a bogey or worse. Said Adam Long who has three top-25s here, "There's a lot of intimidating shots out there. There's room to miss and stuff, but there's a lot of water out there as we saw the first few days. It's kind of in your face, you can't avoid it. You just have to kind of step up and hit a golf shot a lot of times out there. So it provides a lot of birdies, but it's also pretty visually intimidating."
Last year the course had the fifth most penalty strokes per round on Tour and had the most "water balls" out of any other course with a total of 303. This makes control off the tee and Bogey Avoidance more of a premium here than most other "easy scoring" courses. Also, with the course not being completely lined with trees, there are open areas for the wind to have more of an impact, which we saw last year.
That being said, similar to other "easy scoring" events like the John Deere and Rocket Mortgage Classics there should be numerous birdie opportunities and a winning score in the upper teens or higher. With the greens typically playing very soft and receptive here (until last year), it basically comes down to a test of who can keep their ball dry off the tee followed by a ball-striking and a putting contest.
From an agronomy standpoint, as mentioned earlier, the rough is a four-inch blend of bluegrass and fescue. Fairways and greens are pure bentgrass with the greens running at around a 12 on the stimpmeter.

Hole Preview
The layout includes four par-3s, three of which are over 200 yards. They rank as three of the eight-toughest holes on the course. Each of the three par-5s play between 590-600 yards. Even with that length, each is quite reachable in two shots. One reason the eagle rate is only around 2.4% on these holes is that they are the toughest set of par-5s on Tour in proximity to the hole when going for the green at an average of 96 feet. No other annual PGA Tour course is within nine feet of that number.
The 11 par-4s on the course are among the easiest on Tour and average under par. Six of them have a birdie or better rate of over 20%. Two are under 400 yards and the par-4 16th hole is often pushed closer so that it becomes a drivable hole which adds to the weekend drama on the final stretch of holes. Not shockingly, it is the five longer par-4s, with water hazards and all, that each have a bogey or worse rate of at least 17%. Players who can survive those holes and manage to gain strokes on the field will have a distinct advantage.
The second hole at TPC Twin Cities is one of the toughest par-4s on Tour in 2022 with a scoring average of 4.42. Players found the water off the tee an incredible 73 times – or 16% of all tee shots. This led to 43 double bogeys and nine triple bogeys. No other hole on Tour yielded more than 26 doubles and four triples or worst. Water comes into play on numerous holes down the stretch. None more so than the par-5 18th hole where in order to reach the green in two shots, players must thread the needle with the driver off the tee in order to find the fairway. This leaves them with a shorter iron into the green.
Strokes Gained Analysis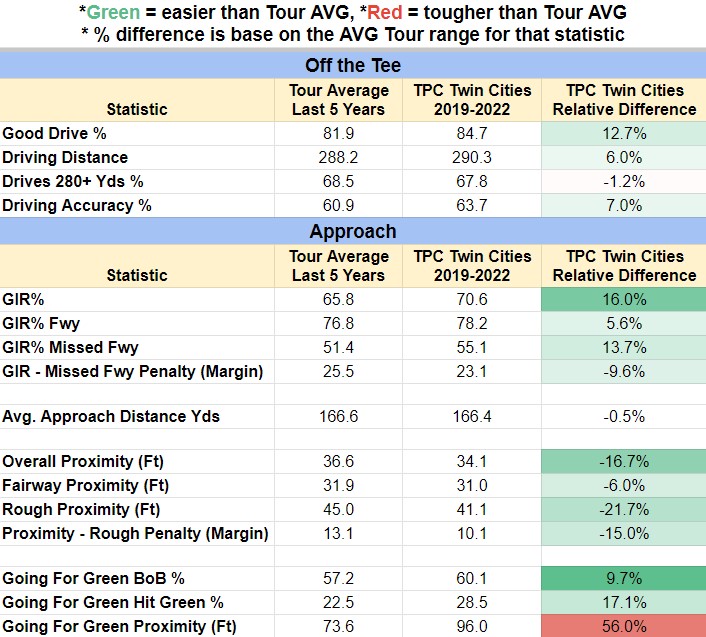 Off the Tee
TPC Twin Cities is among the top-10 courses on Tour with the highest rate of strokes gained off the tee. With the 16th widest fairways on Tour averaging 35 yards on average, landing areas are substantial enough so that anyone finding the water is really striking the ball very poorly. Given how many penal areas there are with water coming into play on nine of 14 drives off the tee, hitting fairways is truly at a premium this week. A few holes require a forced layup due to either bunkers pinching into the landing zone or water playing too big of a risk to hit over the top. Overall, 31 of the top 36 on last year's leaderboard gained strokes off the tee through accuracy.
Some players (Patton Kizzire!) seem to consistently view the water as a mental obstacle, and it's those that contribute to the splash parties that are mostly responsible for a driving accuracy rate that is only slightly above average. That being said, TPC Twin Cities is not a Pete Dye-type course where you have to have a proper angle to the green to experience success. Simply finding the fairway will allow for scoring opportunities. Said Rickie Fowler on the keys to success here, "Hit the fairway, hit the green, you're going to be okay. Big thing here, keep it out of the water. There's a handful of little lakes, ponds that come into play, but drive the ball well, you're going to have plenty of opportunities to make birdies."
As for distance, with seven holes playing longer than 465 yards, while not a prerequisite, it is definitely an advantage on this course. While the data shows that players here are only slightly above average in Driving Distance, players who are confidently striking the ball off the tee with a combination of distance and accuracy (Total Driving) have the best chance at success. And it would seem that with past champions such as Tony Finau, Cameron Champ, and Matt Wolff that the bomber narrative would be in full effect. While the winners haven't needed strokes off the tee in order to have success, most of the contenders have been elite drivers of the ball.
Approach
With easy-to-hit fairways, the thicker-than-average rough has not been as much of a factor in limiting greens in regulation percentage. While last year's slightly lower rate could have been affected by it, the more likely factors were a firmer course and consistent winds between 10-20 mph. With the GIR rate at 71%, golfers who keep their ball dry should have no trouble gaining birdie opportunities.
Over the past three events at TPC Twin Cities, 46% of approach shots have come from over 175 yards. With the green complexes lacking difficulty, proximity averages to the hole are also much easier than the Tour average. All in all, this is the 8th easiest course in which to gain strokes on approach.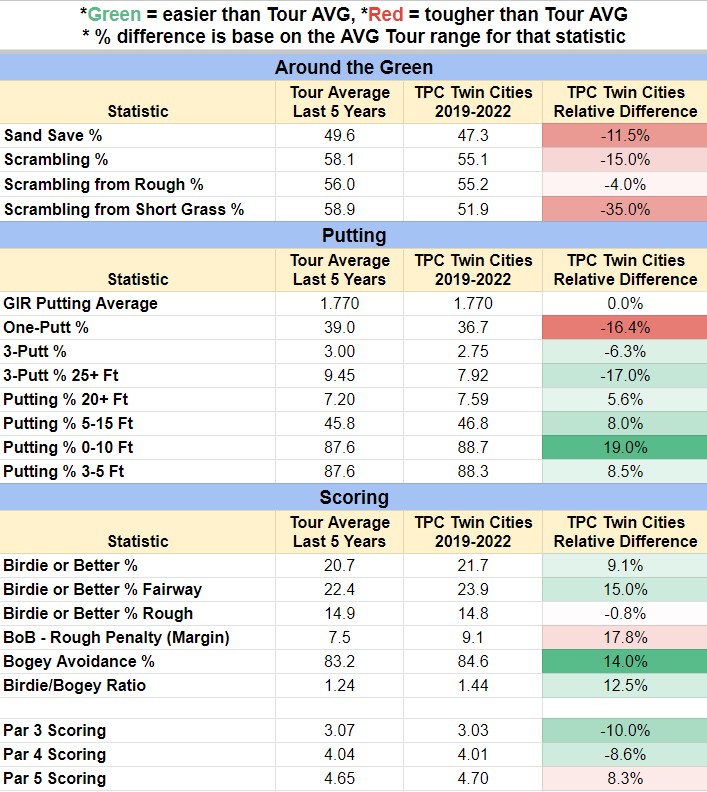 Around the Green and Putting
With such a high GIR%, gaining strokes around the green will not factor into the scoring much this week. That being said, while the chances might be less, the data does show that areas surrounding the greens, especially the short-grass areas, can be a challenge. Both sand save and scrambling rates are 2-3% tougher than average with the tight-lied areas from the fairway being the most difficult. Looking back at past history at this event, last year's winner, Cameron Champ, lost strokes ARG. In fact, no one in the top-10 overall on the leaderboard finished in the top-15 Around the Green. 2020's winner, Michael Thompson also lost strokes Around the Green.
The greens at TPC Twin Cities are bentgrass and run at a slightly above-average pace of 12 on the stimpmeter. They do not have many undulations and typically get rave reviews from players as some of the smoothest running greens on Tour. Compared to the Tour averages in all the major putting categories, it ranks as one of the easiest on Tour. Everything from 3-putt % to putts made from the all-important 5-15 foot range is easier than average. Of course, with the majority of players gaining birdie looks on the greens, whoever can make the most putts is often one of the deciding factors as to who wins the tournament.
Most Important Stats For Success at TPC Twin Cities
*In order of importance
SG: OTT
Total Driving
SG: Approach
Bogey/Double-Bogey Avoidance
Good Drive %
Proximity 175+
Birdie or Better %
Par 4 Scoring
Par 5 Scoring
SG: Easy Scoring Courses
Weather Forecast – Blaine, Minnesota