RBC Heritage Preview, Predictions, Odds & Stats
The PGA Tour heads southeast a couple of hours down the road toward the Atlantic coast for its traditional post-Masters event, the RBC Heritage. Always one of the most beloved events by players, in past years, it has presented more of a relaxed vibe compared to the pressure cooker that is the Masters. But this year, the pressure will be taken up a notch as the best field that has ever gathered here will participate in one of the Tour's new designated events.
Situated at the Sea Pines Resort on the southwest corner of Hilton Head Island, Harbour Town Golf Links has hosted the annual RBC Heritage on the PGA Tour which is held each April following the Masters tournament. From the pervasive palmetto trees and Spanish moss-draped oaks to the beautiful island scenery that Hilton Head provides, Sea Pines is one of the most popular golf resorts in the nation.
With tight fairways, numerous doglegs, and sharp angles, it presents a stark contrast for players coming over from Augusta National and its broad wide-open expanses. Harbour Town is a course where finesse and shot-making are prioritized over length and power. Few other courses on Tour require such a premium on accuracy off the tee and precise iron shots into minuscule greens.
The list of past winners and contenders is filled with elite wedge players with stellar short games: Jordan Spieth, Webb Simpson, Jim Furyk, Shane Lowry, Matt Kuchar, Luke Donald, J.T. Poston – the list of golfers with success here who fit that exact mold would take (much like a Patrick Cantlay putt) forever to list because it just keeps going. Speaking of "Patty Ice", he is perhaps the biggest "course horse" this week with finishes of 2nd, 3rd, 7th and 3rd again at Harbour Town since 2017.
While it may change this year with all of the elite names in attendance, most of the past contenders are not "stars" of the game. The biggest factor for this being the case is that when greatness off the tee isn't required then almost everyone in the field has a chance to contend.
RBC Heritage Field
The best RBC Heritage field ever will assemble this week in Hilton Head. Every single eligible player in the top 100 except for Rory McIlroy, Will Zalatoris, Hideki Matsuyama, Jason Day, Aaron Wise, and Alex Noren will be in attendance. The top two players in the world, Masters champion Jon Rahm and Scottie Scheffler, both have limited history at Harbour Town. This will only be Rahm's second appearance while Scheffler will be making his debut.
Coming off a 4th place finish at Augusta National, an admittedly tired Jordan Spieth returns to the RBC Heritage to defend his title from a year ago. Previous Heritage winners in the field include five-time Heritage winner Davis Love III, three-time champion Stewart Cink, Satoshi Kodaira, C.T. Pan, and Webb Simpson.
Most elite golfers rarely play the week after a major. But with $20 million on the line, including a $3.6 million share to the winner, along with PIP (Player Impact Program) requirements, it's back to the grind with no time to decompress from the tension of last week's Masters. Whether it's Russell Henley coming off a career-best performance in a major or Justin Thomas failing to meet expectations once again, It will be fascinating to see how the big names respond after last week.

Harbour Town Golf Links – History
In 1967, when Hilton Head Island was a detached, sparsely populated barrier island, Jack Nicklaus landed the design contract for a new course named Harbour Town. Nicklaus appointed young architect Pete Dye to design the layout Dye saw it as an opportunity to distinguish his work from that of his rival, Robert Trent Jones.
Along with consultation from Nicklaus, Dye shocked the golf world with a revolutionary new course design. A layout with narrow fairways, elongated waste bunker areas, and tiny greens was unheard of at the time. Unlike other builds during the era, there were no mounds, no elevated greens, and flat lies all-around.
After his win at the inaugural "Heritage Classic" in 1969, Arnold Palmer described Harbour Town Golf Links as a "thinking man's course", and it brought now-famous course architect Pete Dye into the spotlight for the first time.
While the course caused a bit of an uproar in its early years, it has recently been voted as one of the top public courses in the country and is a player favorite. Along with Palmer, Tom Watson, Greg Norman, Davis Love III, and Jack Nicklaus himself are just a few of the renowned champions of the RBC Heritage.
RBC Heritage History and Past Winners
Finish Position and Strokes Gained Course History (2015-2022)
According to DataGolf, course history at Harbour Town is the 17th most predictive on Tour.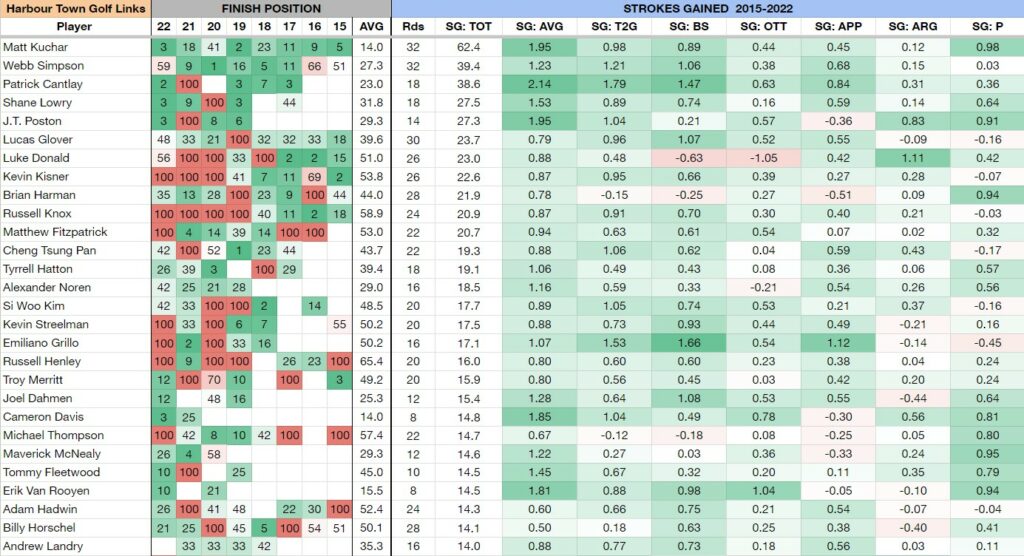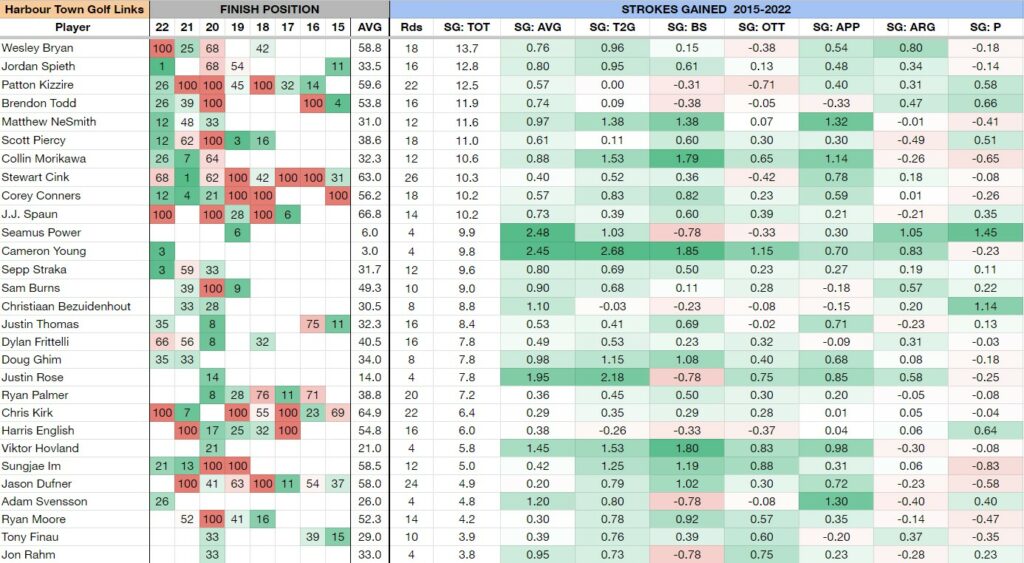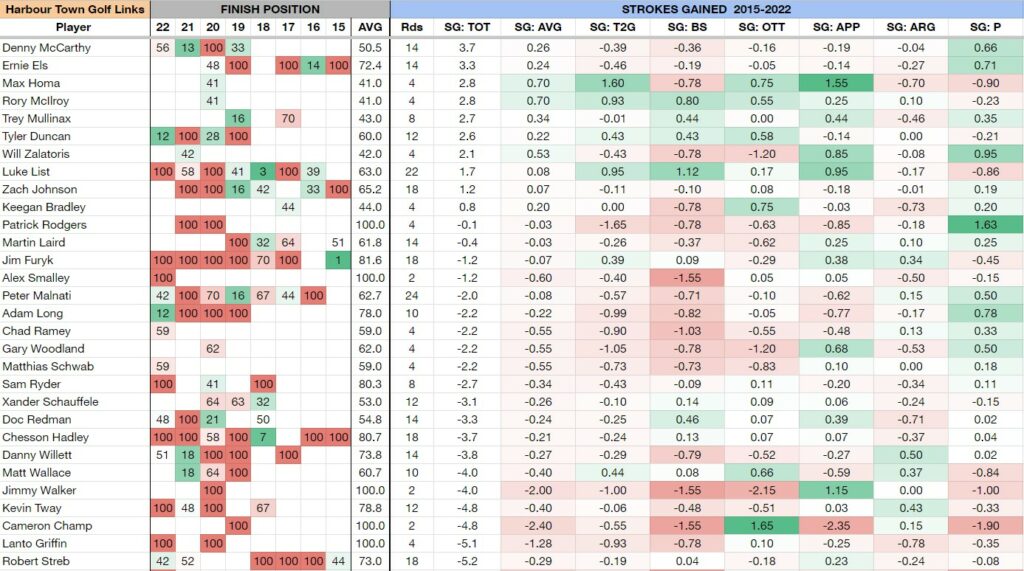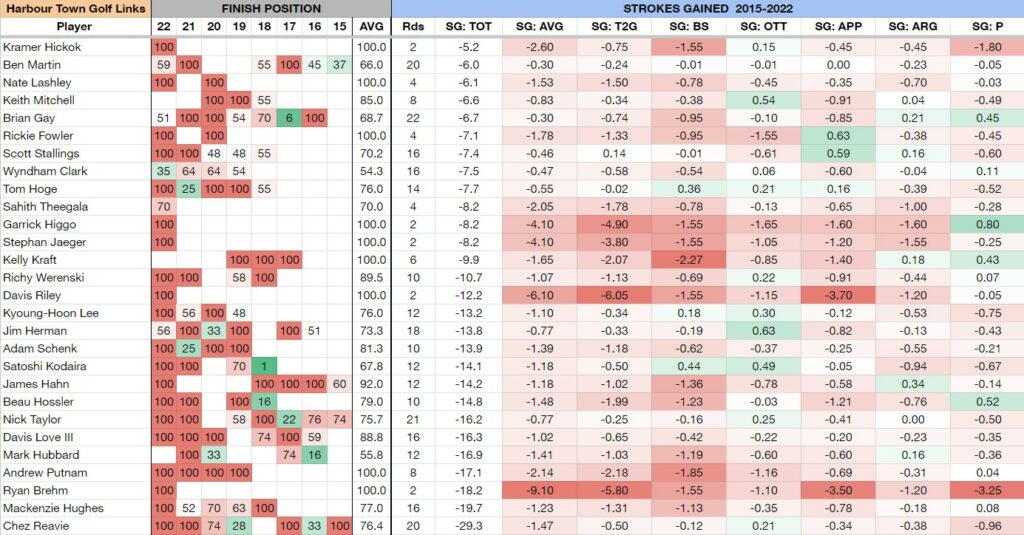 See more stats and research on BetspertsGolf.com
Course Features
Characterized by numerous doglegs, overhanging trees, a wide array of devilish bunkers, and minuscule greens, Harbour Town Golf Links is a coastal par-71 course that measures 7,191 yards. It is a relatively flat course with fairways flanked on all sides by a variety of trees including palmettos, oaks, and pines. There might not be a greater contradiction in courses played in consecutive weeks on Tour than going from the expansive, lengthy, and undulating Augusta National to the claustrophobic, concise, and level Harbour Town. It ranks as the 17th-shortest course on Tour.
Overseeding
As the Bermudagrass is still dormant this time of year, the tournament is played on fairways and rough overseeded with ryegrass. While the rough has typically been minimal at only 0.75″, and more like the first cut at Augusta National, the Tour has given it a massive increase up to 2.5″ in order to give this elite field more of challenge. Greens are the second-smallest on Tour at an average of only 3,700 square feet. They are overseeded with Poa Trivialis and run around 11.5 on the stimpmeter.
Scoring overall can be challenging here. Subtracting the 2020 event in which the field was very strong and the course was played on Bermudagrass in the summer, the last five events have played 0.25 strokes under par. This ranks Harbour Town as the 17th toughest course on Tour. Taking out Webb Simpson's 22-under victory in 2020, 10 of the last 12 winning scores have been 14-under or less.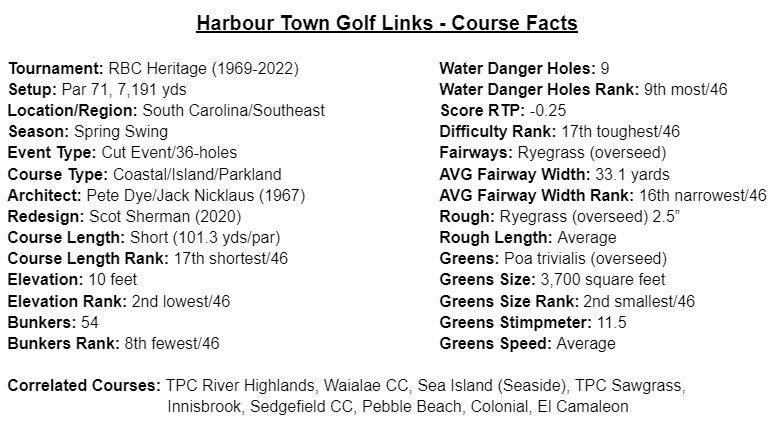 There are numerous reasons the course has averaged over par since 2016. With trees being everywhere, drives off-the-tee that are not hit to the proper location on the fairway could be met with hanging branches on the following approach shot. Water comes into play on nine holes with six of those affecting approach shots. Also, the second-smallest greens on Tour combined with a course that is exposed to the wind from the Atlantic coast can cause GIR% numbers to shrink rapidly on blustery days.
John Farrell, Head Golf Professional at Harbour Town, believes it's the target nature of the course that makes it so difficult and unique to play. "You have to be really precise with your iron play to score well here, and you'd better be able to drive it to a certain part of the fairway to set up your next shot. It's a real position golf course that favors accuracy over brawn, and that's why so many tour players like it."
There are also many Pete Dye trademarks that can trick players and cause trouble. These include blind shots off-the-tee, treacherous Scottish-style pot bunkers, and firm sloping greens. Overall, Pete Dye does an excellent job of using the natural environment to intimidate the player. Those who can strategize their way around the course and hit their targets will have to best chance to raise the trophy on Sunday.
To put it simply, Harbour Town is a test of accuracy and short-game skills. Each hole requires a game plan and the ability to control both line and distance off the tee. It is a station-to-station layout that severely minimizes the effects of driving distance, and it presents golfers with an almost-exact recipe for success. If players can accurately hit the ball from point to point and into specific targets they will be able to take advantage. From tee to green, there is very little margin for error. It definitely demands strategy, touch, and shot-making.
Hole Preview
Most of the first 16 holes at Harbour Town have a reputation for being quite non-descript. They play inland as the course weaves through natural woodlands which are surrounded by a residential housing development. The final two holes, however, are in a class of their own.
The 17th hole is a scenic par-3 with a beautiful background of the Calibogue Sound. It plays 185 yards over water to a green fronted by a large bunker that runs the entire length to the left side with bunkers on the right as well. It demands accurate club selection and a confident swing to avoid trouble.
The 18th is one of the most famous holes on the PGA Tour. It is a tough par-4 that features the recognizable 90-foot Harbour Town Lighthouse. Though it has a massive 75-yard fairway, it plays as one of the most difficult holes on the course due to the water that lines the left side of the hole along with the wind gusts that blow off the Calibogue Sound right into the player's face.
Harbour Town is a stock par-71 course with three par-5s and 11 par-4s. Two of the three par-5s are easily reachable in two shots and offer an excellent chance at birdie or eagle. Overall, the par 4s measure very short compared to the average. Seven of them play under 450 yards with none longer than 475. While eight of them have historically played over par, that number has gotten closer to even over the last few tournaments. While the par-4s and par-5s are average in difficulty, the four par-3s rank as the ninth toughest on Tour, each playing over 190 yards.
Strokes Gained Analysis
Off the Tee
When players at the RBC Heritage reach into their bag for their club to tee off this week, very rarely will they grab a driver. Harbour Town has the fewest rate of drives over 300 yards at only 19.1%. It also has the second-lowest average driving distance on Tour at only 275.5 yards per drive. The past 13 winners have an average ranking of 55th in distance off-the-tee. There is almost no chance for bombers to cheat the course by cutting corners on dog legs or hitting over the trees.
Harbour Town has a reputation for having tight fairways, but that is really not the case as they average around 33 yards wide. From the tee box, as was Dye's reputation, the intimidation is mostly visual. Dye presents golfers with a choice off the tee. If you hit towards the safe landing area, the following approach shot will be much more challenging. On the other hand, if you are aggressive and challenge the dogleg, bunkers, or water hazards you are left with a much easier shot into the green.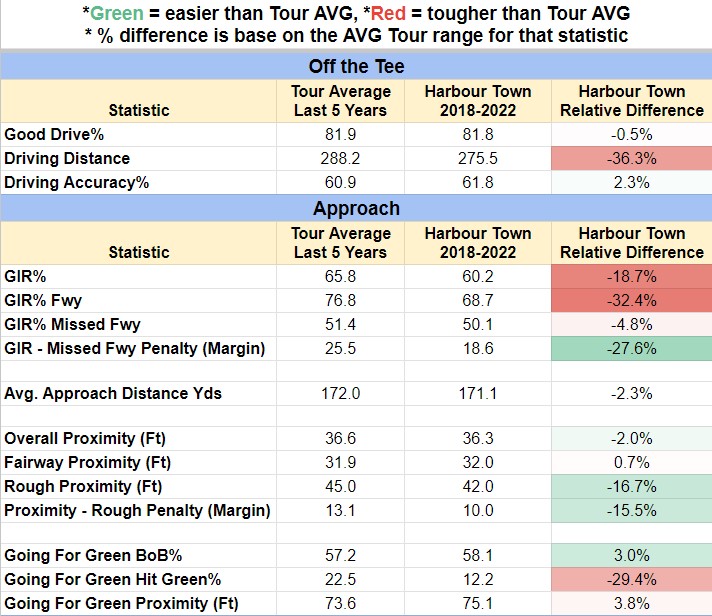 Instead, the course is all about accuracy, playing positional golf by hitting your tee shot to avoid dealing with dangling branches on approaches. Even from the fairway, trees can be an issue on as many as 10 holes. Due to the rough here being close to non-existent in the past, players were not penalized by slightly missing the fairway – provided of course they have missed in the proper location and are left with a clear view of the green. Because everyone is hitting to the same relative distance and area (target golf), it is very hard to gain strokes off the tee at Harbour Town. In fact, it yields the second-fewest strokes gained off-the-tee on the PGA Tour.
Approach
With the second-smallest greens on Tour, and lagoons and coastal waterways edging up towards numerous holes, SG: Approach and proximity to the hole will be vital this week. The 60% GIR rate is well below the Tour average of 65%. The tiny, elevated, firm greens are tough enough to hold as it is, and even more so if the tee shot is on the wrong side of the fairways or blocked behind a tree. Another reason scoring can be challenging is that the three par-5s only have a "hit the green" rate of 12.2% when players go for the green on their second shot.
Players will need to be creative and ready to hit a variety of differing-shaped shots into the greens. Harbour Town is the ninth toughest course to gain strokes on approach and the fifth toughest to gain on shots from greater than 150 yards. With 48% of approaches coming between 150-200 yards, this week will be a true test of iron play.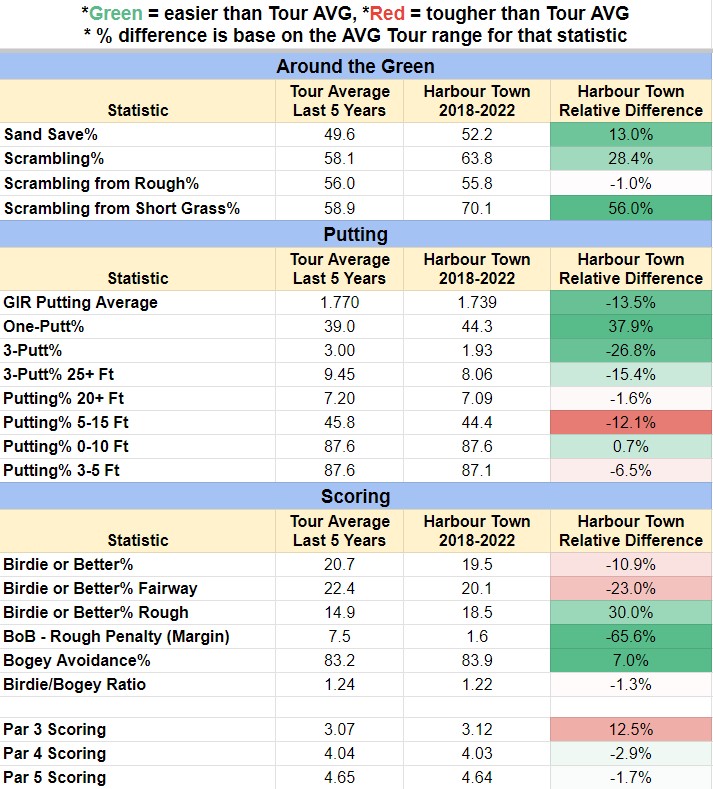 Around the Green and Putting
Though Scrambling and Sand Save % are easier than average, due to so many greens being missed, being able to scramble and save par is still a necessary skill this week. The firm greens with tricky pin placements will test even the best players. So many past winners here from Webb Simpson to Jim Furyk to Matt Kuchar have had excellent short games around the greens.
Finally, the data says that putting between 3 and 15 feet is more difficult than average. Because of the tiny greens, there are not many long putts that need to be lagged up to the hole, making 3-putt % one of the easiest on Tour. And at the same time, one-putt % is one of the easiest at over 43%. While there are some subtle and tricky slopes, the Poa Trivialis greens are one of the truest surfaces from which to putt.
Most Important Stats For Success at the RBC Heritage
*In order of importance
SG: APP
Good Drive %
Scrambling
Overall Proximity
SG: Comp Courses
SG: Putting (Poa Trivialis)
SG: ARG
Birdie or Better %
SG: T2G L6M
Bogey Avoidance
Early Weather Forecast – Hilton Head Island, South Carolina


---
Latest from Bleacher Nation: