As we discussed yesterday, Bryce Harper offered some really thoughtful points about the state of baseball, and, although he did so in his characteristic way (for example, calling baseball "tired"), he rightly pointed out that the sport needs to embrace the excitement and joy that more demonstrative players bring to the game. Let guys get excited, let guys celebrate, let guys show some flair. Yes, yes, and yes.
San Francisco Giants closer Sergio Romo does not agree with Harper, telling the Mercury News, "Don't put your foot in your mouth when you're the face of the game and you just won the MVP. I'm sorry, but just shut up." Romo went on to defend the vague and often irrational "unwritten rules" of baseball, and talked about showing respect for the game.
Although Romo, who is quite celebratory on the mound, emphasized that he does his thing without showing up the other team, I'm not sure that's a fair distinction when this is how you celebrate beating the other team: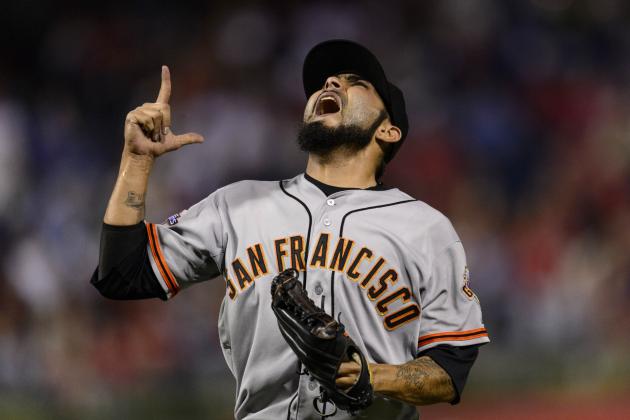 And, to be quite clear, I have absolutely no issue with Romo doing what he does. It's FUN! You got a big out, securing a big win? Enjoy it! Celebrate it! Do whatever dance you want, and if the other team has a problem with it, that's a "them" issue, not a "you" issue.
Grousing about how a guy shows his happiness seems more disrespectful to the game of baseball than anything Harper or Romo has ever done on the field.