WBC Cubs Dropping Like Flies: Lee is Out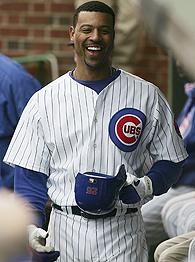 Chicago Cubs first baseman Derrek Lee will not be participating in the upcoming World Baseball Classic as he had previously intended. Like Aramis Ramirez before him, Lee is suffering from back-up-itis.
"I wanted to do it, I really wanted to do it," Lee said. "But they told me, basically, I wasn't going to play." DailyHerald.com.
And then there were four: Ted Lilly is still signed up to play for the USA, and Geovany Soto for Puerto Rico (um, isn't P.R., like, part of the USA?). Kosuke Fukudome will "play" for the Japanese team, no doubt using up any of his productive ability for 2009.
Carlos Marmol is still expected to pitch for the Dominican Republic, but if he reads the pleasantly worded letter I wrote him, he won't.
---
Latest from Bleacher Nation: