Samardzija is Back (redux), and Somebody's Out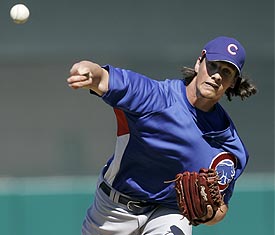 Jeff Samardzija makes his way back to the big club today after pitching very well to start the year in AAA Iowa, and manager Lou Piniella says he'll help out in the 6th and 7th (which I suppose means he'll be in the pen, and will be a setup-ish pitcher).
Naturally, this begs the question: if Samardzija is in, who's out?
Based on performance, the obvious answer is Neal Cotts. But thanks to the ability to throw (crappily) from the left side, it's going to be someone else.
Hendry shot down speculation about lefty Sean Marshall moving from the rotation to the bullpen and bullpen lefty Neal Cotts being shipped out.

"We've got faith that Neal's going to come out of it," Hendry said, referring to Cotts' five walks in three innings and .385 opponents' average. "We're going to give him more chances, and I think he's going to be tough enough to figure it out." CHICAGO SUN-TIMES.
The prevailing wisdom is that Luis Vizcaino (hasn't been scored upon in four appearances) will be designated for assignment (which is a fancy way of saying he'll get the boot after a period of time for the Cubs to try and trade him), and the Cubs would then have to eat the majority of the $4 million he's owed.
The other two possibilities are young, middle relievers Angel Guzman and David Patton. The rub there is that neither can be stashed away in the minors. If Patton doesn't stay on the 25-man roster all year, the Rockies can take him back from the Cubs for a little green.
If the Cubs were to try and send Guzman down to the minors, he would have to clear waivers – i.e., every team in MLB would have to say, "nah, we don't want that cheap, young, high upside, and relatively effective pitcher."
So long story short, if a trade doesn't go down, one of those three is going to be gone from the Cubs. FOR-E-VER.
---
Latest from Bleacher Nation: