Ryne Sandberg Wants to Manage the Cubs in 2011, Likely Won't Be Hitting Coach in 2010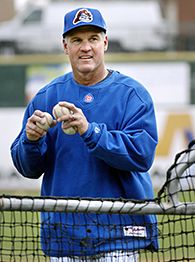 One of the most celebrated Chicago Cubs of the last half century, Ryne Sandberg has not been doing what most retired Hall of Famers do. He's not drinking Dom while resting on a pile of money and rubies – uncomfortable, but totally worth it.
No, Sandberg has been putting in his time as a manager in the Cubs' minor leagues. Sandberg managed the Cubs Single A affiliate Peoria Chiefs in 2007 and 2008, before being promoted to manager the AA Tennessee Smokies this year. All he did was take the team to the playoffs and win the organization's manager of the year award.
So it's no surprise that Sandberg has big league aspirations. He has repeatedly stated a desire to coach and/or manage in Major League Baseball, and with Lou Piniella set to retire after next season, the stars appear to be aligning for Sandberg's return to the Chicago Cubs. Piniella says he's sure that Sandberg will be "in the mix" for the managerial job in 2011.
So what about 2010? With the big league hitting coach spot recently vacated, perhaps Sandberg could transition to the big club that way? Sources say, nah.
Ryne Sandberg won't be a candidate to replace Von Joshua as Cubs hitting coach, sources said, and likely will return as manager of Double-A Tennessee.

Before Joshua was fired as hitting coach Sunday and offered the same position at Triple-A Iowa, general manager Jim Hendry said Sandberg's assignment was up to farm director Oneri Fleita. chicagotribune.com.
Remaining at Tennessee this year would, of course, not preclude Sandberg taking over the reigns in 2011, but it may make it just a little less likely, as Sandberg would be a total greenhorn.
---
Latest from Bleacher Nation: