Lou Piniella Using Pop Rocks When Dynamite is Due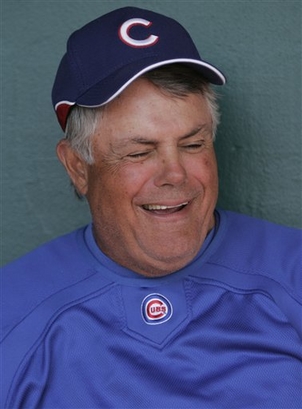 The Chicago Cubs offense sucks.
And yet, several players are hitting very well. Ryan Theriot, Kosuke Fukudome, Marlon Byrd, Geovany Soto, Alfonso Soriano and Starlin Castro are all hitting very well. That's six of your eight regulars. So how is it possible that the offense is not scoring runs? You know the answer. Aramis Ramirez and Derrek Lee.
Manager Lou Piniella is aware of the problem, but for weeks, he's addressed it with minor "tweaks" of the lineup, as he calls it. Enough is enough. It's time for something more drastic, and Gordon Wittenmyer nailes it:
"I don't know exactly what our choices are," Piniella, who also flip-flopped his 1-2 hitters Tuesday, said before the game. "[Alfonso] Soriano's been swinging the bat well [at No. 6] and we don't want to disturb that situation. [Geovany] Soto's doing is job nice in the seventh hole. We've got our leadoff people that are getting on base."

But after yet another night of not enough hitting, running and scoring, Piniella would be more than justified in getting more drastic with his moves in fixing the hitting problems.

As drastic as bringing up raw, touted young shortstop Starlin Castro the first week of May when middle infield and table-setter hitting weren't the problems?

As drastic as fixing the eighth-inning setup problems by sending Carlos Zambrano to the bullpen?

What are the choices again?

How about dropping Ramirez to seventh or eighth until he starts hitting? If Lee's late hitting is a sign his slump is over — about the time he came on strong last year — then put him back in his usual spot. Otherwise, use him somewhere between fourth and sixth.

Don't disturb Soriano? Why not?

Move him into one of the marquee spots when he's hot and back down to sixth when he's not. Keep Marlon Byrd somewhere in the 3-4 mix at least until Lee and Ramirez are back to top form.

Move up Soto, who has become one of the best hitters on the team.

Maybe none of it works. Maybe it gets some people mad.

But isn't that what Ted Lilly suggested the Cubs needed to do to get out of their funk? And is it going to be any worse.
I can't really say it better myself. Why not drop Ramirez dramatically? Why not move Soriano and Soto up? Are they really going to so change their approach in a slightly different spot in the lineup that they'll "stop" hitting?
You have to put guys in the order most likely to score runs, and generally that means just two things: (1) your best hitters should come early so they get the most at bats, and (2) your best hitters should be grouped together so that pitchers don't get a chance to breathe and rallies don't have a chance to die.
Lou Piniella is violating both of those rules right now, presumably, so as not to bruise any egos. It's time for dynamite, Lou, and if some egos catch flying debris, so be it.
---
Latest from Bleacher Nation: