Tom Ricketts Gives Jim Hendry a Vote of Confidence – Sort of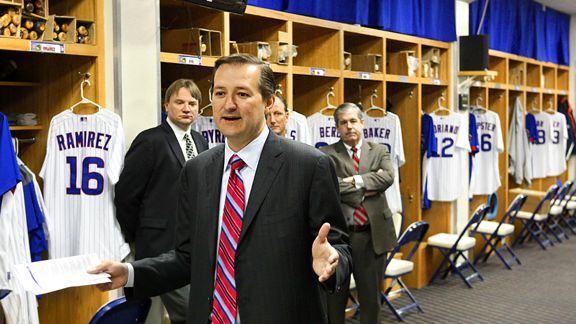 The Chicago Cubs stand a miserable 39-50 at the pseudo midpoint of the season with almost no mathematical chance of making the playoffs. Their payroll – more than $146 million – is the highest in the National League, and the third highest in baseball, but it hasn't bought success.
And the man most responsible for putting the team together, General Manager Jim Hendry, finds himself on the brink. But he's got the support of his boss. Well, mostly.
"Like I've always said, I have the highest level of confidence in Jim. I think he's doing a good job," said Ricketts, who joined the team Sunday in Los Angeles for the first time since returning from a long family trip to Africa.

Asked before the Cubs' 7-0 loss to the Dodgers about the likelihood of firing Hendry after this season, Ricketts left the door wide open.

"The fact is that right now Jim is our general manager," he said. "I support him. I think he does a great job. And after that, we'll just take it one day at a time." CHICAGO SUN-TIMES.
Support does not get more tepid.
My reading tells me that Hendry has almost no chance of surviving the winter. When a boss says things like "right now," and "one day at a time," he's working very hard to avoid any confirmations of the future. And he is doing so because he believes the future to be anything but certain – he has doubts about Jim Hendry. It is truly that simple.
One consideration that comes along with Hendry's possible departure from the Chicago Cubs' organization: what happens to scouting director Tim Wilken? Since coming to the Cubs, Wilken has almost single-handedly reinvigorated the Cubs' farm system. He is roundly considered one of the best of the best, and should there be a shakeup in the organization, he would have his choice of MLB gigs.
But would he leave simply because Hendry gets ousted? Ken Rosenthal has said so, though he doesn't purport to have any inside knowledge on the issue. At a minimum, it's a risk associated with canning Hendry. But is that a reason to keep Hendry in a role he's obviously ill-suited for? Would Hendry consider taking on a VP role, or a return to the scouting world where he, like Wilken, was considered one of the best?
---
Latest from Bleacher Nation: