Carlos Zambrano Handled the Move to the Bullpen Like a Professional, Even if He Was Upset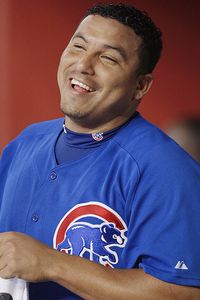 Now that Carlos Zambrano is back in the rotation and pitching reasonably well (that is to say, the result have been reasonably good even if his pitches don't look so good), questions are resurfacing about the Cubs' decision to put Zambrano in the bullpen when Ted Lilly was ready to return to the rotation from offseason surgery.
Was it the right decision? Would he have turned his season around as a starter and avoided all the ugliness that percolated last month? What does he really think? We'll probably never know the answer to the first two questions, but we're getting a view to the third – because Carlos is talking.
Does he ever wonder if he'd be pitching like this had he stayed in the rotation from the outset?

"What do you think?" he replied. "The situation we were in, when they moved me to the bullpen, it was kind of weird. But at the same time, they needed somebody in the bullpen in the eighth inning. We were losing a lot of games in the seventh, eighth innings. I think from my perspective we get too desperate too soon. To make that decision, that's OK. But you know what? I'm trying to finish the season strong and trying to be consistent and prepare for this last month."

The Cubs were 5-9 at the time and John Grabow and Esmailin Caridad had failed as set-up men for Carlos Marmol. Sean Marshall eventually filled the role admirably, but not until the ill-fated experiment to move Zambrano.

At the time, Zambrano thought it was temporary, saying former manager Lou Piniella told him "when they find a guy and trade (for a) guy and get that guy here, I will be back to the rotation."

He played the good soldier, even while his handlers were criticizing the decision behind closed doors. Chicago Breaking Sports.
And Z's handlers had all the reason in the world to criticize the move – a good 8th inning pitcher is worth vastly less than a good starting pitcher. But, of course, at the time, Carlos was neither.
Interesting to learn that Zambrano was, in fact, told that the move was temporary pending a trade for a late-inning reliever, which never ultimately came. We all suspected as much, but now we have confirmation.
Zambrano's description of the move as "too desperate too soon" is made even more obvious in retrospect – the team was a whopping 5-9 at the time. But then again, it's easy to forget how well Carlos Silva and Tom Gorzelanny looked at the time. So maybe, despite everything, it was the right move.
See, we still have questions.
---
Latest from Bleacher Nation: