Obsessive New Manager Watch: Bob Brenly to Interview, Don Wakamatsu on Cubs' List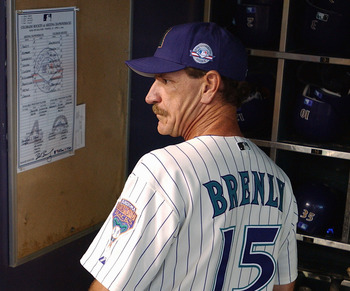 Mike Quade certainly isn't doing anything to hurt his chances of landing the full-time Chicago Cubs' managerial gig, but the Cubs are proceeding with interviews far and wide. Up next, Chicago Cubs color man and former World Series-winning manager, Bob Brenly.
Brenly, 56, who won the title in his first of 3½ seasons with the Arizona Diamondbacks, was asked this week to meet with Cubs general manager Jim Hendry near the end of the season to discuss the Cubs' opening. He also has been in touch with some other teams planning changes.

Whether he's a strong-enough candidate to beat out impressive interim manager Mike Quade or highly regarded outside candidate Bob Melvin — Brenly's former bench coach in Arizona– he certainly has one of the primary traits chairman Tom Ricketts says the Cubs seek.

"We have to have someone who understands what they're getting into," Ricketts said at a WSCR-AM (670) luncheon Thursday that featured several professional and college sports executives from Chicago teams. "We have to have a manager who really understands … the scrutiny you get and [must] be able to handle those periods in June when you lose three games in a row and people start talking about Year 103 of the curse."

After six years of public analysis of the Cubs, that wouldn't be an issue with Brenly — and, in fact, is one of the attractions.

"It always will be, just because of the circumstances, the drought or whatever you want to call it," said Brenly, who managed three straight winning seasons in Arizona before being fired halfway through a transition season in 2004. "I'm sure if you talked to anybody who had interest in the job, they'd tell you that is the single-most attractive thing about it, to hopefully be the guy [to end it]."

Brenly has two more years on his TV deal but has the right to opt out for a field job.

"As much as I love the job I have now, there's something about wearing that uniform, something about making the decisions rather than just talking about what happened after the fact," he said. "That's always been attractive to me and still is to this day." CHICAGO SUN-TIMES.
This year more than years past, Brenly has been openly critical of Cubs players and management, which criticism was completely deserved. How that will impact his chances at the Cubs job remains to be seen – honestly I could see it cutting either way. Sooner or later, Brenly is going to get another chance to manage at the big-league level.
In other news, you can add former Mariners skipper Don Wakamatsu to the Cubs' list, which is a long list according to ESPN's Jerry Crasnick.
Wak was a long time bench coach with the Rangers, before taking over as the manager of the Mariners in 2009 (by way of a stopover in Oakland in 2008). After his team massively underachieved this year following big spending by the front office, Wakamatsu was fired in August. He's relatively young (47), but beyond that, I'm not sure I see the upside here.
---
Latest from Bleacher Nation: