Carlos Zambrano Ain't Goin' Nowhere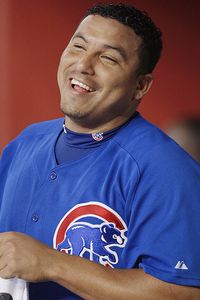 Earlier this year, deep in the throes of his most miserable season, Carlos Zambrano said that if the Cubs managed to secure a trade, he would not use his no-trade clause to block the move. With no reasonable hope of a turnaround from Zambrano on the field, his tenure in Chicago appeared to be assuredly at an end.
Fast-forward to the conclusion of the season – Zambrano has finished the season on an unbelievable 8-0 run with an ERA barely over one in that stretch. He is suddenly more beloved, and unsurprisingly has changed his tune.
Resurgent Chicago Cubs pitcher Carlos Zambrano said he will invoke his no-trade clause if he's approached about a deal during the offseason.

"Because I'm on a mission, and until I accomplish this mission, I'll be right here," Zambrano told ESPNChicago.com on Friday.

The mission Zambrano speaks of has kept Cubs owners and managers up at night for 102 years.

"Of course, to win the World Series here," Zambrano said. "It's not just me, I have confidence in my teammates that we can do it." ESPN Chicago.
When Zambrano melted down in July and headed off for anger management, our collective hope as fans was simply that he would get his shit together, return to the Cubs, and pitch well enough that when (not if) the Cubs traded him in the offseason, the team wouldn't have to eat his entire salary.
No one expected him to get his shit together as thoroughly as he has. Not only has Zambrano been a model teammate and citizen; not only have the results been good; but Zambrano actually looks like a great pitcher again. Having lost his mid-90s fastball, he reinvented himself with increased movement and improved command (not necessarily control, mind you, which this humble blogger continues to remind people is *not* the same thing as command).
In doing so, he put the Cubs in a bit of a bind: do they use his improved value as leverage in an impending trade, or do they hope that he's really turned things around and can once again be the ace of the staff? For better or worse, Zambrano may have answered for the Cubs by reminding the team that he holds all the cards with his no-trade clause.
---
Latest from Bleacher Nation: