Fallout From Astros Totally-Not-Cheating-Gate: Other Teams Are Ticked, MLB Wants to Move On
If you haven't bee following this Houston Astros story, I think I'm jealous. In short, an Astros employee – or, I don't know, vigilante? – was caught texting and using a small camera near the Indians dugout in Cleveland during the ALDS, before being removed for what appeared to be cheating. Then, in the ALCS, the same exact person was removed at Fenway Park for doing the exact same thing.
Some of the notable peculiarities about that story include the fact that this man, Kyle McLaughlin, wasn't wearing a media credential, but was found in that area, and that he deleted all social media ties to the Astros, which didn't ultimately matter, because, you know, screenshots exist and he's in pictures with the Astros owner, in front of the Astros plane, and with an Astros ID badge.
It's also worth noting that the Indians warned both the league and the Red Sox about this guy after the ALDS incident, and he still managed to get about 3 innings of "spying" in. Of course, that's not the story McLaughlin, the Astros, and now, Major League Baseball is telling. According to them, McLaughlin was only trying to prevent the Red Sox (and, apparently the Indians, too?) from cheating, themselves.
I can't put into words my feelings at this moment better than this gif can express them: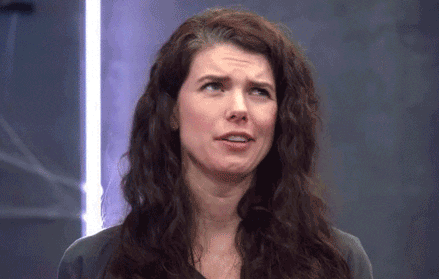 According to Jeff Passan, "Major League Baseball cleared the Astros of wrongdoing Wednesday," because Houston argued, convincingly, I guess, that it directed McLaughlin to "surveil opposing dugouts to ensure their opponents weren't using any illegal tactics to steal the Astros signs."
"We were playing defense," Astros president of baseball operations Jeff Luhnow said. "We were not playing offense. We want to make sure it's an even playing field."
Aside from the fact that I do not buy this, how does that change anything? You can't do something illegal to stop someone else from doing something illegal. Imagine if Brett broke into your friends house, hid in the wall of your bathroom with an iPhone, filmed everything that happened because he was suspicious about your activity in there, then got caught and kicked out AND THEN HE BROKE INTO YOUR NEIGHBOR'S HOUSE, DID IT AGAIN, GOT CAUGHT AGAIN, AND THE POLICE WERE LIKE "he was just playing defense." [Brett: Why did you have to choose the bathroom as the location of my hiding, man?]
That's not how this works. So again, I don't buy the excuse anyway, but even by their own admission – i.e. if we take them at their word – they were still doing something extremely inappropriate after getting busted for it once (not to mention the fact that the Astros are long-rumored sign-stealers).
Needless to say, people are not happy:
Many team officials across baseball frustrated, appalled by MLB decision on Astros/spygate. They believe that Rob Manfred threatened in past to come down hard on violators of electronic surveillance rule, and now with crystal-clear evidence of HOU breaking rules, nothing happens.

— Buster Olney (@Buster_ESPN) October 18, 2018
And perhaps the worst part is Astros president of baseball operations Jeff Luhnow is out there acting like he/the Astros are a victim in all this: "What happens is when a team has success," he said, per Yahoo, "there's going to be a lot of other people looking at 'em and trying to figure out what's driving their success." Wut. Your club was caught cheating TWICE in the playoffs after a season filled with multiple, similar accusations, and people just want to see an actual investigation.
Unfortunately, what's become obvious is that MLB is hoping – with the assist of a quick investigation and no-punishment resolution – this will just go away in the minds of fans, even if not executives and players around the league. After all, they're staring at the potential for a huge Dodgers/Red Sox World Series, which should garner many millions of eyes, and they don't want anything – no matter how egregious – to spoil that. It's that simple, and it's understandable self-interest by the league.
Now, Major League Baseball isn't the government. And this isn't society. To an extent, it's a private league with their own rules and ways to enforce those rules. But if there's not even some semblance of actual justice, that's a real problem. I'm reminded of the Cardinals hacking "punishment." We just want to see MLB take these things seriously.
---
Latest from Bleacher Nation: