Grab a Free Trial of ESPN+, Watch the Cubs Tonight, and Support Bleacher Nation!
I don't want to hide the ball here at all – this is a promotional post. But it's a *useful* promotional post. We here at Bleacher Nation are running our own show – it's just Brett, Luis, me, and Bryan – and like everyone else, we have bills to pay. There's no Marquee Sports Network money for us. (Yet!)
One of the ways we pay those bills is through the carefully placed ads you see on the screen right now (thank you very much for allowing those ads to display), but we also supplement those ads with a few thoughtfully-selected partnerships. For example, you might've noticed our links to Amazon's Deals of the Day most mornings in the Bullets or when we share deals at Fanatics and the MLB Shop when there's a good sale going on. When you buy stuff through our links, you are directly making it possible for us to keep our doors open. So, really … thank you very much!
Here's a gif of a very thankful cat: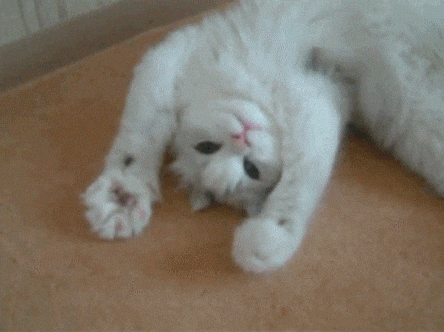 And to that end, we have a new partnership ahead of the 2019 season, and I think it's one you're going to be pretty stoked about: ESPN+. If you sign up for ESPN+, there's a FREE 7-day trial option, you be supporting BN in the process. But more importantly, you'll also get a ton of cool stuff.
For example … for the first time ever, ESPN+ will be streaming eight Spring Training games this Spring … including tonight's Cubs game against the Red Sox! (Note: Blackout restrictions apply.)
There'll also be plenty of big-league streaming opportunities during the season (and plenty of other sports, too). Aside from MLB games, the live sports selection includes games from MLS, NHL, boxing, UFC, tennis, and college football, basketball, and a lot more.
On top of that, you get access to the entire 30-for-30 archive (and a TON of other original content), and, my favorite part, access to ESPN Insider! It comes right along with your ESPN+ subscription. SIGN UP. We link to a lot of ESPN Insider stuff throughout the year – like Keith Law's top prospect rankings – so that right there is a great use of ESPN+.
If you don't end up enjoying your FREE seven-day trial, you'll be totally OK to cancel. There is no obligation here. If you do stick on, it's only $4.99/month. Win-win. So consider trying it out up right here and supporting Bleacher Nation in the process.
---
Latest from Bleacher Nation: