YES! The Chicago Cubs Lineup You've Been Waiting For All Season! (UPDATE: Haha … Just Kidding)
UPDATE: Javy Baez has been scratched from tonight's lineup with a sore left thumb. Addison Russell is now playing shortstop and batting seventh, moving Contreras to 5th.
Because of Ben Zobrist's absence and the late addition of Nicholas Castellanos (to say nothing of the untimely injuries to guys like Willson Contreras, Anthony Rizzo, Kris Bryant, Javy Baez, etc.), we have not yet once seen the following lineup. But better late than never, because this group has it all.
Chicago Cubs Lineup: 
Ben Zobrist, 2B
Nicholas Castellanos, RF
Kris Bryant, 3B
Anthony Rizzo, 1B
Javy Baez, SS Willson Contreras, C
Kyle Schwarber, LF
Willson Contreras, C Addison Russell, SS
Jason Heyward, CF
Jose Quintana, P
Excuse me one moment …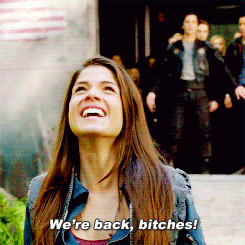 … Good. Now it's out of my system.
The Chicago Cubs lineup this evening is the lineup we've been waiting for all season long. And while we did have a few games with Nicholas Castellanos and Willson Contreras together, that was like – what? – 2 days at the beginning of August (when Zobrist still wasn't back yet anyway).
And while we were approaching this lineup a few days ago, too, Kris Bryant (knee) and Javy Baez (thumb) were both held out with injuries. Both are back in the lineup tonight and I couldn't be more ready to see what this group can do.
I mean, just consider the balance (not including the pitcher):
1 switch-hitter (Zobrist)
3 lefties (Rizzo, Schwarber, Heyward)
4 righties (Castellanos, Bryant, Baez, Contreras)
Ah! I love it. Okay, go Cubs and, as usual, we'll have your full Pre-Gamin' post closer to game time (6:10 CT).
---
Latest from Bleacher Nation: