Ok, So Maybe Rich Hill is Going to the Mariners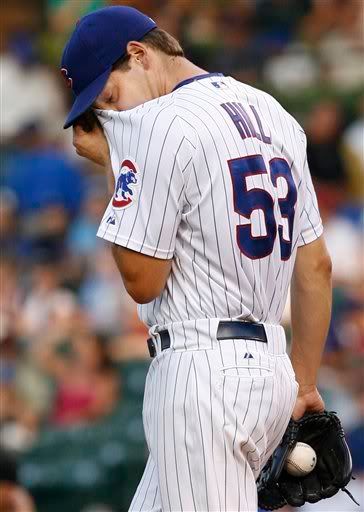 Fresh on the heels of a Baltimore Sun article that Rich Hill to the O's was a near done-deal, it seems the Mariners are trying to pry the troubled lefty from the Cubs.
Sources suggest the Baltimore Orioles may have the inside track on Hill, who was a top prospect before battling control issues. He won 11 games and had a 3.92 ERA in 2007 in making 32 starts, but he walked 18 batters in his first 19.2 innings and was sent to the minors.

He tried to pick things up in winter ball while pitching in Venezuela, but he walked 23 batters in 21 innings.

If Seattle could tempt the Cubs with one of their best-paid pitchers – Miguel Batista ($9 million in 2009), Jarrod Washburn ($10.3 million) or Carlos Silva ($11) – in exchange for Hill, that would probably clear the way toward the club making Abreu, who made $16 million last year, a legitimate offer. seattlepi.com.
1.) A lot of kerfuffle over a guy who was released by his Venezuelan Winter League team this year.
2.) Why would the Cubs dump Jason Marquis and his expensive one-year remaining deal, just so they could pick up a crappier pitcher with a more expensive, multi-year remaining deal? Keep dreaming Seattle Post Intelligence (ah, nomenclature is funny).
3.) Are the Mariners and the Orioles battling each other to build the best Cubs scrap heap team? Like assembling a Voltron wannabe team from broken down cars they found at the county dump?
---
Latest from Bleacher Nation: