Alfonso Soriano is Patient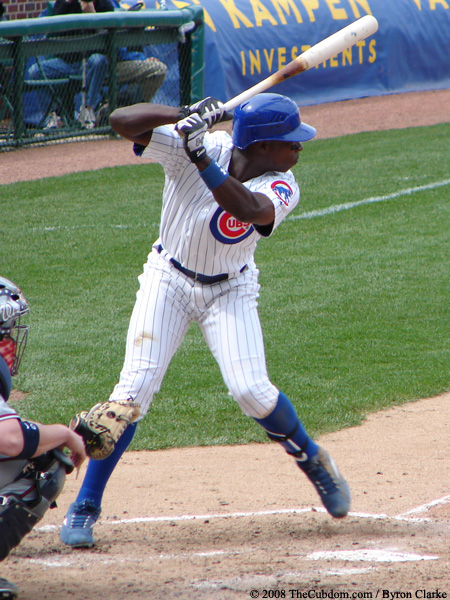 If you've noticed one thing about Alfonso Soriano's performance over the last couple of weeks, you've noticed that he's hitting really well.
If you've noticed two things about Alfonso Soriano's performance over the last couple of weeks, you've noticed that his patience at the plate is truly impressive, and he's clearly seeing the ball very well.
If you've noticed three things, you've noticed that he hasn't actually cut out that stupid hop on fly balls – but hey, this is a positive article about Soriano.
And while Derrek Lee and Geovany Soto were among the league walk leaders with 15 each entering Tuesday, nobody's patience has stood out more than Soriano's.

"A lot of walks, a lot of good at-bats," Soriano said. "I feel good at home plate."

Consider that Soriano was 15 for his last 40 through Monday after a rough first week, and his comfort level has been especially good in his last six starts, with six walks during that span.

Not bad for a guy who averaged a walk every four games in his career before this season.

"It's the same approach. I just trust my hands more," said Soriano, who credits hitting coach Rudy Jaramillo with improving his mechanics — specifically, getting his front foot down quicker — to give him a split-second longer to recognize the pitch.

"I've got time to see the ball," he said. "Having better timing. That's what hitting's all about."

Whether he keeps up the pace with the walks, the bigger benefit so far has been recognizing breaking pitches quick enough to lay off more of the bad ones — a major adjustment for the only hitter in the majors who saw a higher percentage of breaking balls than the Phillies' Ryan Howard.

"They used to throw me those pitches and I'd go for it, but right now I'm not going for it and I'm taking it," he said. "They know they have to give me better pitches to hit. I think I have more hits with breaking balls than fastballs." CHICAGO SUN-TIMES.
If Rudy Jaramillo is the reason Alfonso Soriano has turned things around, he's worth every penny of his highest-paid-hitting-coach-in-baseball salary. Soriano simply looks like a professional hitter again – like he knows what pitch is coming, and knows what to do with it.
Of course, we might point to Aramis Ramirez's terrible start as a counterpoint… but again, this is a positive article!
This post is brought to you by SPORTSBETTING.com. Get best online sports betting bonuses at this sportsbook.
---
Latest from Bleacher Nation: