Ryan Sweeney: Doin' Business, Lookin' Handsome, Accumulatin' Value
Of the myriad minor league flyer and waiver wire pick-up deals the Chicago Cubs have made this year, the one that excited me the most on the positional side was the Ryan Sweeney signing.
When talk of the Red Sox letting Sweeney go started to circulate, here's what I wrote:
The Red Sox are letting 28-year-old outfielder Ryan Sweeney go, and I wonder if he might be an interesting pick-up for the Cubs on a minor league deal, if that's the best he can find …. He's good defensively, can play all over the outfield, bats lefty, doesn't strike out, sees a lot of pitches … I'd like him in the organization. Smart money says the Cubs are feeling him out.
Smart money, indeed. The Cubs subsequently signed Sweeney to a minor league deal, and I doled out further praise, essentially questioning how the Cubs were able to get such an obviously big-league-caliber player on a minor league deal.
That is all to say that I was pretty pleased that the Cubs had landed such a quality player on a no-risk deal. Time has borne out that excitement, and Sweeney's performance deserves some highlighting today.
By the time David DeJesus sprained his shoulder earlier this month, Sweeney had already emerged as the preferred fourth outfielder on the team. But, with a lack of right-handed hitting outfielders on the bench, Sweeney was given the unenviable task of being DeJesus's caddie in center field when there was a lefty on the mound. Now that DeJesus is out, Sweeney starts every game in center field. That means that, although he's a lefty, he has not had the benefit of facing solely righties. Still, Sweeney is hitting .299/.348/.523 (134 OPS+). In fact, he's actually hitting better against lefties this year (.958) than righties (.833).
The point there is to underscore that Sweeney's numbers thus far aren't the product of him  batting only in advantageous matchups. Neither is his performance the product of an elevated (and unsustainable) batting average on balls in play. Sweeney's BABIP this year is .326, and it's .324 for his career. Sweeney is also striking out at the same rate he always has (14.7% this year versus 14.6% for his career), and is actually walking slightly less (6.9% this year versus 7.9% for his career). The biggest difference has come in the form of power, where Sweeney has a .224 IsoP versus just .105 for his career. Perhaps the power is unsustainable, but he doesn't have to sustain quite this level of power to remain a highly valuable player (especially as a fourth outfielder). Sweeney is performing well this year because he's pretty good at baseball.
At 28, Sweeney could be a very nice player for the Cubs for a few years yet to come. He plays good defense all over the outfield, he's got a great approach at the plate (consistently near the league leaders in pitches per plate appearance), and hits well enough to fill in for extended periods of time, even if he's not a starter. To me, that sounds like one of the best fourth outfielders in baseball, and a guy the Cubs should keep around.
The rub for the Cubs is that Sweeney is a free agent after this season. While they might like to keep him in the fold going forward, he's played so well, and presents so much possible value as a complementary piece that the Cubs might not be able to avoid trading him by July 31. Even if they don't shop Sweeney, his name is going to come up in talks with other teams who, while speaking to the Cubs about a pitcher, for example, will invariably say, "hey, by the way, you know we could use a fourth outfielder, too, and that Sweeney sure is playing well …. "
Indeed, I've noticed in passing that, when third parties are discussing possible Cubs trade chips, Sweeney's name starts to come up. You don't usually see that for minor league free agent pickups who've mostly been playing off the bench, but Sweeney is legitimately great in that role, and it has a lot of value. In other words, however much the Cubs might like Sweeney, they may have to strongly consider shopping him over the next month.
I'm not sure how much it adds to his trade value, but Sweeney's popularity has gotten to the point that the outfielder has become a Ryan Gosling-esque meme. I'm not sure who started it, but I've seen a few pictures of Sweeney on Twitter from Julie DiCaro. What can you say? The dude is mighty handsome: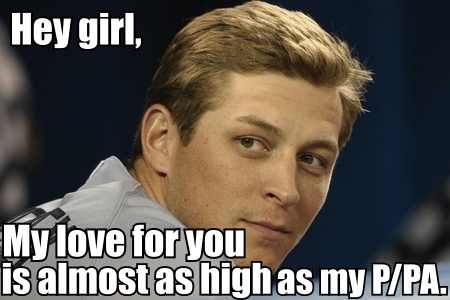 ---
Latest from Bleacher Nation: