The Greatest Javy Báez Tag of All-Time?
Joe Posnanski is running down the 60 greatest baseball moments, and I think we'd all regard number 58 as a pleasant surprise.
It's Javy:
No. 58 in our 60 greatest baseball moments makes @Nick_Offerman very happy. Then again, it makes all of us very happy — it's Javy Báez's no-look, all joy tag in the World Baseball Classic. https://t.co/pc0s0w1HK0

— Joe Posnanski (@JPosnanski) April 29, 2020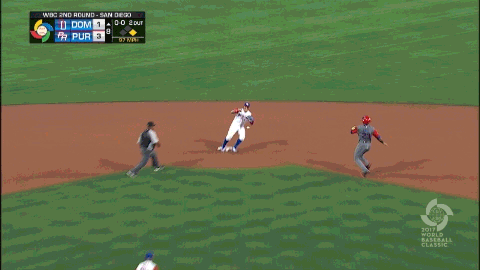 The honor is something of a catch-all for what Javy Báez's play represents for the sport, never better illustrated than a no-look tag during a totally ceremonial event like the WBC (which nevertheless somehow more perfectly captured our passion better than your average April big league game).
What I like about the Posnanski article there is that he knows this is not Javy Báez's "best" tag – it's just the one that he decided was the most enjoyable: "It may not be his best tag. But it's his most enjoyable. It's his most wonderful. I have never seen a happier moment on a baseball diamond. Heck, it's bigger than baseball. It's a kid riding a bicycle with no hands for the first time. It's the scene outside an ice cream truck that has just stopped in the neighborhood. It's a child opening a big box and having a puppy jump out."
Of course, that opens up the box: what *is* Javy's best tag? There are so many I can picture in my head, which is kinda nuts when you think about how fundamental a tag is.
Before I even would go perusing, I know precisely the one I would say. But I don't want to spoil the fun for other folks who also have theirs cemented in their mind, or who want to watch a couple videos to see all the greats (mine is at 40 seconds in the second video, but there's an honorable mention that doesn't even show up in the videos!):
OK, so, for me, this is my favorite Javy Tag (yet), because it was just so improbable that you could POSSIBLY turn this into an out:
The jump was absurd and the throw was not great. But even in slow motion you see how absurdly fast Báez whips down his glove, and you also see how it lands at the only spot where he could have a chance at Nieuwenhuis. I remember watching that one live four years ago and thinking I'd never seen anyone ever do anything quite like that at a base. Stuck with me.
Oh, but the honorable mention tag? It isn't crazy impressive, it's just pretty funny:
I boop your nose. pic.twitter.com/6QZ0IhZ3dZ

— Chicago Cubs (@Cubs) August 23, 2016
---
Latest from Bleacher Nation: