Let the (Preseason) Games Begin, Training Camp Battle, Sky Win, and Other Bulls Bullets
Take it away, boys.
BASKETBALL'S BACK ALRIGHT!!!!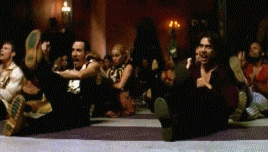 •   Okay, to be fair, we are talking about preseason basketball. And, to be even fairer, the Bulls do not start their preseason basketball until tomorrow night. But preseason games have still finally tipped off across the country, which means we will have Chicago Bulls basketball every week until February's All-Star break! HUZZAH! Tomorrow's first game will be at the United Center against Lauri Markkanen and the Cleveland Cavaliers (talk about preseason narrative!), followed by a Thursday matchup against the New Orleans Pelicans in Chicago and a road trip for a second meeting with the Cavaliers in Cleveland (aka the place no one vacations). If you can't seem to hold in your basketball hunger for another 24 hours, though, you can scout the Bulls competition with NINE preseason matchups later tonight. Feels good, doesn't it?
•   This will also be me tomorrow when we see Zach LaVine score on Lauri Markkannen for the first time.
when I see the Bulls new starting lineup take the floor for the first time:
pic.twitter.com/xaX3BGS27t

— Bleacher Nation Bulls (@BN_Bulls) October 4, 2021
•   Alize Johnson is putting his head down and fighting for a role. While all signs point to Alize grabbing one of the final two roster spots, I found it interesting that head coach Billy Donovan did not mention him in the list of players who could fill a Patrick Williams-sized hole in the frontcourt. Now, I say that simply based on Rob Schaefer's tweet on the subject here, so it's totally possible Donovan just forgot to mention the 25-year-old. But it was interesting that Donovan did mention the other Johnson on a non-guaranteed contract: Stanley.
Hungry 🤐 pic.twitter.com/eOUe7aun5s

— Alize Johnson (@AlizeJohnson) October 4, 2021
•   The suggestion could simply imply that Stanley has shown more behind the scenes thus far, which I guess would not be all that surprising considering he is the training camp invite with the most NBA experience. Over his 371 career games, Stanley has struggled to show any form of consistency or reliability on the offensive end, but defense is a different story. Much like Derrick Jones Jr., Stanley is a bit undersized but offers great athleticism to pair with a useful 7'0″ wingspan. He has held a positive defensive box plus-minus every season of his career, and his steal percentage has ranked at least in the 90th percentile three of the last four seasons, per Cleaning the Glass. Considering names like LaVine, DeRozan, Vucevic, and even White are on the roster, I suppose we should not be too shocked if Donovan begins to favor more high-upside defenders off the bench.
•   With that said, I still really want to see what Alize can bring to the table, and I have to imagine this will be where the preseason comes in clutch. Alize provides a more traditional build in the frontcourt, and while I know it has all come in short stints, he has shown legitimate flashes in the rebounding department (averaged 5.0 in 10.5 minutes per game last season). The Bulls could find themselves in a position where that skill set is key. As their frontcourt depth and size have sunk (particularly with the departure of Thaddeus Young), so could their strong rebounding numbers. The team grabbed the 11th-most rebounds a night last season, and it's going to take a team effort to keep up that high mark. In fact, Donovan called rebounding a "collective priority" during Media Day, which is especially true if this team wants to push the pace and get out in transition with Lonzo Ball.
•   Fortunately, what works in the Bulls' favor is that Nikola Vucevic can single-handedly carry the load on some nights. The big man may not be the most athletic center, but he is a massive human being who might as well play with glue on his hands. Vucevic has ranked top-10 in rebounds per game the last three seasons, and over his final 11 games of the 2020-21 season, the guy averaged an absurd 14.3 boards a game. I also tend to believe Patrick Williams will prove to be a much stronger presence on the glass this season. He has the physicality to hang with opposing frontcourt players, and he appears to have added needed muscle this offseason.
•   I'm excited to get a closer look at this summer later today. Bulls TV always does a great job producing this content.
Get to know some of our new guys 🤝

Watch the season premiere of "All-Access" Monday night at 6 pm CT on our YouTube! pic.twitter.com/45SMaFLYlQ

— Chicago Bulls (@chicagobulls) October 2, 2021
•   (1) I love the Chicago support. (2) I love the bonding. (3) THE CHICAGO SKY ARE ONE WIN AWAY FROM THE FINALS!!
The squad pulled up to Game 3 to support the @chicagosky!

(Via @wnba/@shotbymateo_) pic.twitter.com/0MoBgwMNdZ

— Chicago Bulls (@chicagobulls) October 3, 2021
•   Time to get poked.
Reporting with @BobbyMarks42: The NBA and the NBPA have agreed to a reduction in pay of 1/91.6th of a player's salary for each game an unvaccinated player misses in their home market because of local laws. For example, Kyrie Irving would lose roughly $381,000 per game.

— Tim Bontemps (@TimBontemps) October 4, 2021
Andrew Wiggins has been vaccinated, according to Steve Kerr, and will be available for all Warriors games during the upcoming season. https://t.co/5IqzEc7bLm

— matt eppers (@meppers_) October 3, 2021
•   You always love to see guys with this kind of platform go out of their way to do something special. LaVine continues to be a strong representative of Chicago and the Bulls organization.
Special day at the @whitesox game with the students in the deaf and hard hearing program from Whitney M. Young Magnet High School. I was a little rusty but thankful to them for helping me with my sign language and can't wait to have them at a @chicagobulls game soon! pic.twitter.com/zILsgADaRg

— Zach LaVine (@ZachLaVine) October 4, 2021
•   Can confirm.
Michael Jordan is absolute cinema. #MJMondays (h/t @NBATV) pic.twitter.com/9iTJ0lRz19

— SLAM (@SLAMonline) October 4, 2021
•   AN OCTOBER WIN!
Enhanced Box Score: Cubs 3, Cardinals 2 – October 3, 2021 – https://t.co/UQGJakVKMz pic.twitter.com/ZfAf4csgVr

— Bleacher Nation (@BleacherNation) October 3, 2021
•   HA! Now you're not the only ones in preseason!
A Preseason Win From The Dark Ages, Patrick Kane in NHL22, and Other Blackhawks Bullets https://t.co/Fg2JeYugFW

— Bleacher Nation Blackhawks (@BN_Blackhawks) October 3, 2021
---
Latest from Bleacher Nation: