Video Game Numbers and Bat Flips: CPBL Star Slugger Wang Po-Jung To Be Posted
As Major League teams anxiously await the availability of the next best international prospect, Victor Victor Mesa from Cuba, another international player, this one from the Chinese Professional Baseball League, is expected to be posted this offseason.
It's official, #Lamigo Monkeys' will post 王柏融 (Wang Po-Jung) this offseason. According to Monkeys' general manager, the posting process will begin after the Taiwan Series. #CPBL pic.twitter.com/nFNWFe1dlj

— CPBL STATS (@GOCPBL) October 17, 2018
When the Taiwan's Lamigo Monkeys post 25-year-old slugging outfielder Wang Po-Jung this offseason, he will become the first player ever posted from the CPBL, Taiwan's top circuit, according to Jeff Todd. And if you're looking for offense, Wang could be your guy.
Wang debuted in 2015, posting huge power numbers and the ability to hit for average in a small 29-game sample. Then, as a full-timer in 2016, his nominal "rookie" season, Wang won the CPBL MVP award. In 2017, Wang was clearly playing with the cheat codes on, because he posted straight-up video game numbers, and his 2018 season was perfectly swell, as well. Take a quick look.
Wang's Slash Lines:
2015 (122 PAs): .324/.377/.640; 9 HRs
2016 (550 PAs): .414/.476/.689; 29 HRs
2017 (517 PAs): .407/.491/.700; 31 HRs
2018 (534 PAs): .351/.446/.547; 17 HRs
Now, obviously, you can't compare Major League pitching to the CPBL – not only is there just generally less talent there, it's also known as a hitter-friendly league – but these are not normal numbers. Wang is clearly better than where he's playing, and could probably use another challenge. Wang got a partial write-up at FanGraphs before the 2018 season, with a couple stateside minds believing he could be a future big leaguer.
There is a catch to him coming over right now, however, as there always is. According to Jeff Todd, if he's posted, MLB teams will be limited by international spending restrictions, because Wang has not played the "requisite six professional seasons" to be exempt. That means that the Cubs, who've already spent most of their available IFA bonus pool won't be able to make a huge bid. Then again, if they did have the money, I think they'd prefer to spend it on Mesa, anyway. They could always trade for more bonus pool space, but if Wang becomes an impressive consolation prize to Mesa, fewer teams might be willing to part with whatever pool space they have left. Unfortunately, getting him in the door, then, could be tricky.
The actual mechanics for posting a player from he CPBL are not yet entirely clear, and, further muddying the waters is the possibility that an NPB team in Japan could actually win the posting for Wang, where he could further develop. The NPB is typically seen as a more difficult challenge than Triple-A, but something just beneath MLB. If teams wanted to be sure about Wang, getting eyes on him in the NPB would eliminate a whole lot of doubt. Thus, his best path to a big payday could be first heading to Japan before coming to the States.
Given the Cubs' willingness to explore all avenues to improve and their need to add a bat or two, we'll keep this on our radar.
Oh, yeah … I almost forgot to mention: He bat flips … hard.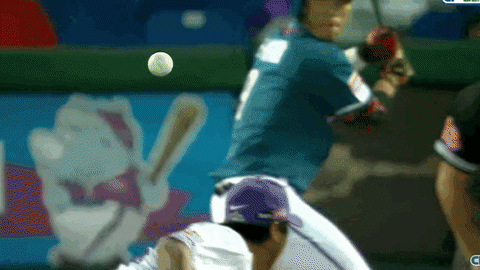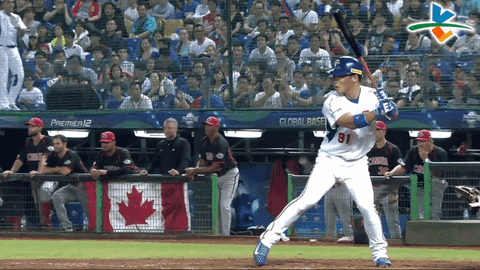 And there's a lot more where that came from. Give it a Google.
---
Latest from Bleacher Nation: